F80 Differential Mounts and Upgrades

Rubber mounts are used to locate the differential to the subframe in RWD BMWs. This is one area that we like to focus on to improve power transfer, response time, and the overall feel of the drivetrain. By using a stiffer bushing you reduce or eliminate the 'wind up' and deflection of the stock rubber differential mounts when power is applied. A solid bushing will not twist when power (torque) is applied. Instead that power is directed to the drive wheels where it will do the most good. Our diff mount upgrades are solid rubber, Delrin, or aluminum kits depending on the application and the intended use. Even though these were developed for our race cars, we put them in a lot of street cars as well. The diff is not directly linked to the wheel and suspension so these are not as affected by bumps and road imperfections. Some additional drivetrain vibration may be felt through the chassis but in our experience it's very minimal. When installing one of our performance differentials make sure you also replace the mounts! And any subframe overhaul should also include solid diff mounts. There's no downside!

For accurate results, specify your model below.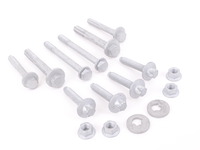 The rear subframe bolts on the M2/M3/M4 are one-time use only and need to be replaced any time they are removed, such as during a diff install, sway bar install, bushing replacement, or any time the subframe is removed. Re-using the original bolts may damage the threads inside the body so make sure you have new M2/M3/M4 subframe hardware on hand for any work. This group of bolts and hardware is the list recommended by BMW to replace when the subframe is out of the car.
Parts list -
33306786187, eccentric washer
33302284642, Torx screw with collar
33306784802, eccentric screw
07119905610, hex screw
33326760668, self-locking nut
33326779785, eccentric screw
This item fits the following BMWs:
2015+ F87 BMW M2
2015+ F80 BMW M3 - Sedan
2015+ F82 F83 BMW M4 - Coupe, Convertible

Part #: F8XMRSUBBOLTS
Ships on Apr 2, 2018

Free Shipping
on orders $199 and up