BMW F80 Transmission Parts
Looking for parts for your BMW automatic transmission or manual transmission? You'll find many of the parts available to service your BMW's transmission here. While internal transmission servicing and rebuilding should be done by professionals, there are a lot of things on the outside of the transmission that you can service or replace yourself. These include gearbox seals, o-rings, gaskets, automatic transmission filters, backup light switches, mounting bolts, flanges, collar nuts, screw plugs, Mechatronics, and more.

For accurate results, specify your model below.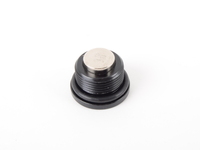 You use a magnetic drain plug for your engine oil, right? Why not apply the same proactive thinking to the differential too? This is a direct replacement magnetic DCT transmission drain plug for your BMW. It will catch and retain fine and larger metal particles in your diff oil. If you're proactive in your DCT oil servicing, you will catch a minor issue long before it becomes a headache. DCT drain plug includes one seal washer.

Part #: 013198ECS01A
In Stock

Free Shipping
on orders $199 and up
Featuring a dual-core design that provides a 67% increase in cooling rows for greater cooling efficiency, the CSF Performance DCT Transmission Cooler is the ultimate plug-n-play transmission cooler. This radiator utilizes a single row, high pressure, 26mm multi channel microtube and fits the stock location, giving you a 30% increase in cooling efficiency with an easy and simple installation.
Features:
Made with CSF's AC condenser technology using a 1-row super-high pressure 26mm multi-channel microtube
Dual-pass high performance core with 10 cooling tubes vs OEM single-pass with return pipe 6 tube design
High-density multi-louvered fin design
Bolt-on fit, requiring no modifications to install. Accepts all attaching OEM components including oil-line connections, mounting brackets, and ducting
Lab tested to ~30% more efficient than the stock cooler
World's first and only true "plug-and-play" upgraded DCT transmission cooler for the BMW S55 engine in the new F8X platform
Fits the following BMWs:
F80/82/83 BMW M3 & M4 S55 3.0L Turbo

Part #: 8081
Direct Ship