BMW F80 Suspension Bushings & Mounts

Suspension mounts are designed to absorb the energy of the shocks and springs and isolate road harshness from the chassis. But over time the original rubber mounts will crumble and fail. We have stock mounts and bushings as well as a wide selection of upgraded and heavier-duty for performance street cars. We also offer a full selection of race only bushings and mounts. Simply choose your car below. Included here you will find rear shock tower mounts, front strut mounts, subframe mounts, lower control arm bushings, rear trailing arm bushings, and more.

For accurate results, specify your model below.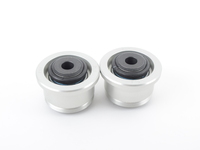 For someone looking for superior performance and longevity these sealed monoball bushings are the best upper thrust bearing you can buy for an E82 1-series or E9X 3-series. The advantage of a monoball bearing is that it will not deflect under load. All of the rubber bushings move in all sorts of directions and that changes your alignment, especially when used with big brake kits or when driven hard. The condition worsens as the bushing wears out. The Dinan monoball sits in a CNC machined aluminum housing which has zero deflection. The monoball allows complete freedom of movement but only at the desired angles. What you get is superior steering precision, better handling from more consistent alignment, and almost infinite bushing life. And thanks to the inner liner and sealed rubber boots there's none of the extra noise or reduced service life of fully solid race bushings.
We strongly advise using these with new control arms. BMW recommends that the bushings be replaced only once per set of control arms. So if your thrust arm bushings have been replaced already then we do not recommend re-using the arms. The other reason is that the aluminum arms stretch over time which will make the bushings loose inside the arm. Other manufacturers recommend filling the stretched arms with paste but replacing the control arm is the better solution.
For over 35 years, Dinan has been America's premier tuning company, pioneering advancements in BMW modification while retaining a focus on balanced performance that preserves the original character and driving feel that a BMW offers. When you install a Dinan part on your car, know that it's not only carefully developed and tested, but that Dinan stands behind it with a four year, 50,000-mile warranty. Dinan believes so fully in their "total package" approach that once your car has been fitted with enough of their parts, they celebrate your conversion from stock to Dinan with an exclusive trunk badge, displayed proudly by BMW enthusiasts everywhere.
This item fits the following BMWs:
2008-2013 E82 E88 BMW 128i 135i 1M Coupe
2006-2011 E90 BMW 325i 328i 330i 335d 335i M3 - Sedan
2007-2011 E91 BMW 325i 328i - Touring Wagon
2007-2013 E92 BMW 328i 335i 335is M3 - Coupe
2007-2013 E93 BMW 328i 335i 335is M3 - Convertible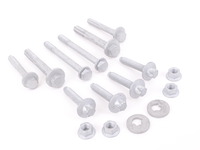 The rear subframe bolts on the M2/M3/M4 are one-time use only and need to be replaced any time they are removed, such as during a diff install, sway bar install, bushing replacement, or any time the subframe is removed. Re-using the original bolts may damage the threads inside the body so make sure you have new M2/M3/M4 subframe hardware on hand for any work. This group of bolts and hardware is the list recommended by BMW to replace when the subframe is out of the car.
Parts list -
33306786187, eccentric washer
33302284642, Torx screw with collar
33306784802, eccentric screw
07119905610, hex screw
33326760668, self-locking nut
33326779785, eccentric screw
This item fits the following BMWs:
2015+ F87 BMW M2
2015+ F80 BMW M3 - Sedan
2015+ F82 F83 BMW M4 - Coupe, Convertible