BMW F83 aFe Cold-Air Intake Kits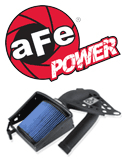 Founded in 1999, Advanced Flow Engineering (aFe) produces high flow, high performance replacement air filters and complete cold-air intake systems for BMWs. Each precision-engineered intake component and filter offers excellent design and construction, lifetime cleanable cotton filters that breathe easier than paper filters, powder-coated heat shields to block out hot engine air, and measurable performance gains resulting in increased horse power and torque. aFe's reputation is fast growing as a manufacturer and designer of quality and functional intake kits with excellent fit and finish and reasonable cost.
aFe enigneers their kits for each individual model application, even designing air filters from scratch to maximize the available surface area of the low pressure zone. They then offer their intake components in packages that fit your tastes and needs -
Replacement Performance Filter. A direct performance replacement filter for your stock air box.
Dynamic Air Scoops. Metal scoops or ducts that create a 'ram-air' effect to the intake.
Super Stock System. A performance filter combined with Dynamic Air Scoops and Throttle Body Spacer for power gains while keeping the OEM appearance.
Stage 1 Kit. A cone-filter kit with vehicle-specific heat shield and intake tubing to replace a stock airbox.
Stage 2 Kit. All of the components in a Stage 1 Kit plus additional intake tubing or ducting after the air box or air mass meter.
Sealed Intake. A Stage 1 or 2 Kit with an enclosed airbox and heat shield. The filter area is maximized inside a vehicle-specific airbox and then sealed with a cover for a OEM-type appearance.

For accurate results, specify your model below.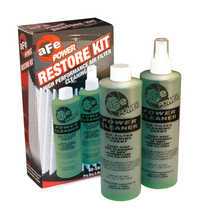 This eco-friendly air filter cleaner is for the aFe Pro Dry S performance air filter. Simply spray on and wash off and your Pro Dry S air filter is good to go. Please follow the instrucctions with the kit and you will have a lifetime of horsepower.

Part #: 90-59999
In Stock
Free Shipping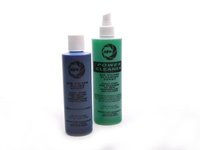 Bring your aFe filter back to life with a Restore kit from aFe. Included is filter cleaner & replacement oil. These air filter oils is designed to not harm MAF sensors, while allowing the filter to catch as much debris as possible.
Used for Pro 5 R filters

Part #: 55-10460
In Stock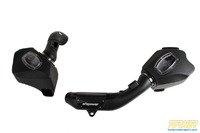 The latest generation M3 engine benefits greatly from improving the intake system. This turbo S55 engine is thirsty for more fresh, cool, dense air to assist in combustion. Reduce the power-robbing drag and decrease intake air temperatures on your F80 M3 or F82 M4 intake system by eliminating the stock BMW airbox. This AFE engineered intake system is designed to flow the most air (+46% over stock) with the least amount of restriction, dyno tested to make the best horse power and torque gains, maintain proper air filtration, decrease intake air temperatures, and have a superior fit and finish deserving of living under the hood of this latest generation M3/M4. AFE has scored yet another winning solution with this sophisticated and high tech design. We're also confident you'll enjoy the enhanced intake "growl" this intake gives the M3/M4 from under the hood -- this is performance you can actually hear when get on the accelerator.

Features:
Outflows factory intake system by 46%
Dual CAD-Designed Roto-Molded Intake Tubes
Dual One-Piece Sealed Housings with Auxiliary Air Scoops
Built-In Sight Windows Provides Easy Inspection of Filters Without Disassembly
Includes both Pro Dry S oil-free & Pro 5R oiled, washable/reusable performance air filters
Unique (Patent Pending) Filter-to-Housing Interface for Easy Installation
No Cutting or Drilling on OEM Parts for Faster Installation
Unique One-Piece Housings:
The smooth one-piece sealed housings with auxiliary air scoop are used to eliminate the use of multiple-piece housings and ensure the coolest air intake charge available. Large, clear sight windows are used for a hassle-free filter inspection and an aggressive style.
Roto-mold Tubes:
This System uses CAD designed, dyno-tuned, roto-molded intake tubes to achieve maximum power gains while maintaining a perfect fit.
Large 3-Layer "Oil-Free" Performance Air Filters:
This intake system utilizes oil-free, large 5" tall conical 360 degree radial flow performance air filters with 3-Layer progressively finer porosity synthetic media for maximum convenience.
Large 5-Layer Performance Air Filters:
This sealed intake system utilizes pre-oiled, large 5" tall conical 360 degree radial flow performance air filters with 5-layers of progressive finer mesh cotton media providing maximum airflow and performance.
aFe install and dyno video:
Note: This intake system is not CARB certified at this time and is not legal for sale in California or use on vehicles registered with the California Department of Motor Vehicles.
This item fits the following BMWs:
2015+ F80 BMW M3
2015+ F82 BMW M4

Part #: 52-76305X
In Stock
Free Shipping