F83 Turner Motorsport Performance Exhausts
Turner Motorsport has been tuning BMWs since 1993 and exhaust upgrades for BMW are one of our favorite modifications. Performance mufflers, headers, resonator-delete, muffler-delete, race exhaust, and other exhaust upgrades have all been a part of our tuning outline since the beginning. Upgraded exhausts have multiple benefits: better sound, lighter weight, and power and torque gains. Although we sell multiple exhaust product lines (Borla, Corsa, Supersprint, Akrapovic, and others) there are times when we desire something unique and different. These exhausts are our own design with concept and engineering done by our own designers and staff and then trial-tested on our project and employee cars to ensure our design objectives are met.

For accurate results, specify your model below.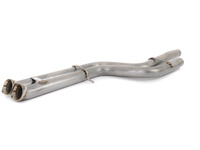 Perfect mix of more sound while eliminating rasp and rattle
Complements the stock sound - a refinement not a total transformation
Power & Torque gains
Preserve the stock muffler flaps and appearance
Our Turner M3/M4 Test Pipes delete the secondary cats for more sound and performance. One of the more common complaints about the M3/M4 exhaust is the lack of sound and it's clear why - two turbos, four catalytic converters, a resonator, and a large muffler with electronic flaps all work to dampen exhaust volume. We tried a number of different exhaust layouts but this was our favorite for a moderate increase in volume, "rasp and rattle" eliminated, easy install, low cost, and a power gain as a bonus!
Our M3/M4 front connecting pipes replace the stock section after the downpipes and before the resonator. They bolt to the downpipes with factory gaskets and hardware (will not fit with factory M Performance exhaust). We left the stock resonator in place because we felt removing it was too loud and it did a good job of tuning the exhaust note at certain RPM. With the Turner Test Pipes we got just enough exhaust sound in the cabin without it being obnoxious or intrusive. We especially love the subtle bark this setup gives when letting off the throttle!
Made in the USA!
Customer Feedback:
"RPower" - "After driving the car a couple of days during the work week I can give more of my thoughts on the Turner Test Pipes. The best word to describe the Turner Test Pipes is TRANSFORMATION! The start up noise is very loud and aggressive-no more boring weed eater lawnmower sound! These pipes make you want to rev the car out because the noise keeps getting better the higher you are in rev band. Great job Turner Motorsport for putting out a great product at a great price!"
"katzndogs" - "I too have the turner test pipes. I echo everything that RPOWER said. The sound is great and does truly want to make you rev out the car every time you give it gas. There is an awesome and loud bark/pop when you let off the gas in between shifts (6MT) or after spooling the turbos and then letting off. Down shifts sound more exciting and are noticeable louder. All in all you cannot go wrong with this system. GREAT job Turner!!"
This part alters or deletes the emissions equipment on your car. Because of this, we require a waiver of emissions compliance to be signed and sent in to TMS.
You can download the waiver here.

Part #: TENF8046MCD
Available
Free Shipping