BMW F83 Performance Clutch Kits & Parts

These heavy-duty clutch kits use aluminum lightweight flywheels with sport clutch components to give your clutch the grip and clamping force it needs to cope with high torque upgrades. Our kits were developed through racing programs by companies affiliated with our own race team - JB Racing, Sachs Sport, OS Giken, and UUC Motorwerks. JB Racing is the leader in aluminum lightweight flywheel upgrades. They are direct replacements for the stock dual-mass flywheels with steel contact surfaces and computer balanced to 14,000 RPM. JB has partnered with Sachs to spec sport/HD clutch discs and pressure plates that work seamlessly with their aluminum flywheels. The result is a clutch/flywheel upgrade package that functions a lot like the original clutch combo with near-stock levels of effort and engangement but with a much higher torque capacity. Don't let the clutch be your weak link in a highly tuned car!

For accurate results, specify your model below.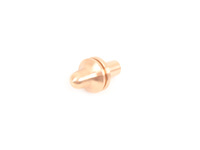 This brass clutch pivot pin is an upgrade over the stock plastic pivot pin. The brass pin will last a lot longer than the plastic piece and may save you time and hassle later on. The original plastic pivot pin is known to fall out, snap, or just wear out over time. At the least you get a very annoying squeak every time you depress the clutch. In a worse case scenario, the clutch fork won't be able to push on the throw-out bearing and your clutch will be useless. The only time to replace the clutch pivot pin is when the transmission is removed, so this brass upgrade can be installed during clutch replacements or a rear main seal service.

Part #: 013236ECS01A
In Stock

Free Shipping
on orders $199 and up