BMW F83 Turbo Upgrades
If more boost and reliability are your goals choose from one of our BMW turbo upgrades. Our turbo upgrades range from stock turbos rebuilt with stronger internals to all-new, ground-up turbo upgrades. BMW turbos such as the N54 are capable of really impressive power numbers on stock engine internals but the factory turbos lack the precise tolerances and reliability that an upgraded unit will deliver. In other words, the stock turbos can only do so much and if big power (>400whp) is your goal a turbo upgrade must be in your plans. Our partners are leading experts in turbo technology and upgrades. Each Stage has been professionally developed and tested. Additional upgrades and tuning may be, or is, required. Contact us for more details on tuning options.

For accurate results, specify your model below.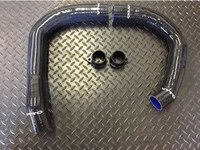 These extra-strength silicone pipes replace the plastic pipes coming from the turbos to the top-mount intercooler on the M3/M4. Since the stock pipes are plastic there is the potential for cracks and boost leaks which will surely spoil the fun. They are also not a consistent diameter through the whole pipe which will restrict flow. Vargas Turbo has identified the weak spots and come up with these 7-ply 2.0" silicone hoses. They are stronger and more durable and have much better flow than the original squashed pipes. And silicone will not contribute to heat soak in the engine bay. Three colors available - black, blue, or red. A matching silicone boot for the TMIC to the throttle valve is also available for symmetry.

Part #: VTTS55-SIL-CP
Direct Ship
Free Shipping