BMW F83 Exhaust System Upgrades

A performance exhaust is a modification that you get constant benefit from - at every change of the throttle you are rewarded with that tuned sound. It's not like other modifications where you may not realize all of its benefits all the time. It's an upgrade that you enjoy at all times when you're behind the wheel. We offer exhaust upgrades from multiple performance manufacturers like Borla, Corsa, Supersprint, and Akrapovic but we have also developed or sourced other exhaust systems to meet specific needs.

For accurate results, specify your model below.

Magnaflow's cat-back performance muffler features mandrel-bent stainless steel piping, new exhaust valves to work with the factory actuators, 3.5" tips, and an intoxicating sound. But perhaps the best attribute for this system is the price - less than any other major brand cat-back exhaust for this car. The Magnaflow name has been in the American performance car market for decades and now they're turning their experience to the German car scene. The Magnaflow has all of the features of other more expensive exhausts but at substantial savings and with a lifetime warranty. Magnaflow performance exhausts are Made in the USA.

The Magnaflow F8X M3/M4 system is offered in two sound levels -
Touring. Slightly louder and more aggressive sounding than stock. The Touring gives you most of the sound of the Sport but at a reduced volume to preserve the refinement of the stock exhaust.
Sport. Much more aggressive than stock with more roar and throaty sound. If you want to hear a lot more of the exhaust this is the version to go with. It's ever-present with plenty of burbles and pops to let you know its there. The sound is not "muscle car" like from other American exhausts but it's a more European sounding exhaust note. More drone will be present at highway speeds in higher gears.

Two finish options are offered: titanium-look and stealthy satin black.

section:cat-back x-pipe, rear muffler
connects to:stock center section
tip style:90mm quad round
material:stainless steel

This item fits the following BMWs:
2015+ F80 BMW M3 - Sedan
2015+ F82 BMW M4 - Coupe
2015+ F83 BMW M4 - Convertible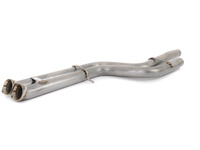 Perfect mix of more sound while eliminating rasp and rattle
Complements the stock sound - a refinement not a total transformation
Power & Torque gains
Preserve the stock muffler flaps and appearance
Our Turner M3/M4 Test Pipes delete the secondary cats for more sound and performance. One of the more common complaints about the M3/M4 exhaust is the lack of sound and it's clear why - two turbos, four catalytic converters, a resonator, and a large muffler with electronic flaps all work to dampen exhaust volume. We tried a number of different exhaust layouts but this was our favorite for a moderate increase in volume, "rasp and rattle" eliminated, easy install, low cost, and a power gain as a bonus!
Our M3/M4 front connecting pipes replace the stock section after the downpipes and before the resonator. They bolt to the downpipes with factory gaskets and hardware (will not fit with factory M Performance exhaust). We left the stock resonator in place because we felt removing it was too loud and it did a good job of tuning the exhaust note at certain RPM. With the Turner Test Pipes we got just enough exhaust sound in the cabin without it being obnoxious or intrusive. We especially love the subtle bark this setup gives when letting off the throttle!
Made in the USA!
Customer Feedback:
"RPower" - "After driving the car a couple of days during the work week I can give more of my thoughts on the Turner Test Pipes. The best word to describe the Turner Test Pipes is TRANSFORMATION! The start up noise is very loud and aggressive-no more boring weed eater lawnmower sound! These pipes make you want to rev the car out because the noise keeps getting better the higher you are in rev band. Great job Turner Motorsport for putting out a great product at a great price!"
"katzndogs" - "I too have the turner test pipes. I echo everything that RPOWER said. The sound is great and does truly want to make you rev out the car every time you give it gas. There is an awesome and loud bark/pop when you let off the gas in between shifts (6MT) or after spooling the turbos and then letting off. Down shifts sound more exciting and are noticeable louder. All in all you cannot go wrong with this system. GREAT job Turner!!"
This part alters or deletes the emissions equipment on your car. Because of this, we require a waiver of emissions compliance to be signed and sent in to TMS.
You can download the waiver here.