H&R has been the leader in German-made performance springs since the 1970s. Lowering springs are not just about the looks and stance. Lowering the center of gravity, reducing bodyroll, and stiffening the suspension all lead to better handling on the road and the racetrack. H&R engineers spring sets for a number of different driving situations but most of all they are set up for street use. H&R springs lower the ride height and stiffen the spring rate with the goal of delivering flatter cornering and better handling balance on the road without hurting ride quality. We think the H&R ride quality is perfect for street use - not overly stiff for every day use but stiff enough that it makes a significant improvement (unlike other 'sport' springs on the market). And every H&R sport spring set is designed with TUV approval so that it functions just like a stock spring but with added performance benefits.
Turner Motorsport has branched out for non-BMW applications too! See our partner site
Allsprings.com for springs, coil overs, spacers, and other chassis upgrades for non-BMW applications.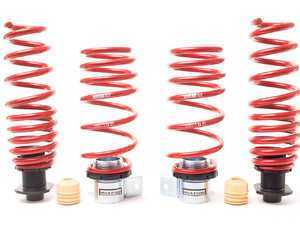 The perfect answer for cars equipped with electronic shoc...

The perfect answer for cars equipped with electronic shocks: H&R VTF Adjustable Lowering Springs! More lowering, more features, and more personalization. Lower your vehicle with world-renowned H&R Sport Springs and have the advantage to fine-tune lowering to your own taste. Adjustable down to the micro millimeter and with an average lowering range of 0.30 aEUR" 2.7aEUR depending on application, your stance can now be as unique as you are.
H&R VTF (Verstellbar TieferlegungsFedern) are specifically designed and tuned to work with factory damping for superb ride and great handling. All H&R components are crafted for strength, resiliency, and durability, and are 100% made in Germany.
F82 M4 - Lowering of 1 - 1.6" Front and .75 - 1.2" RearF82 M4 - Lowering of 1 - 1.6" Front and .75 - 1.2" Rear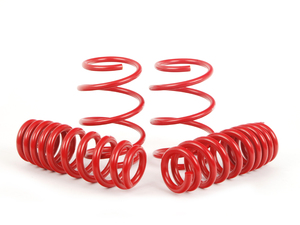 Direct from Germany, H&R Springs are the highest ...

Direct from Germany, H&R Springs are the highest quality sport springs available. These H&R Sport springs for your F83 M4 work well with the factory shocks and dampening to retain much of the factory drive ability and ride. This spring set will make a subtle yet noticeable visual improvement to the F83's stance, reducing the perceived fender gap of the stock ride height. This spring kit fits F83 M4 including cars with Adaptive M Suspension.

These springs transform the handling into more of what (we feel) an M car should feel like -- sharp cornering with only a small sacrifice in ride quality. The ride is still very compliant and well suited for city streets, keeping the ride quality very close to the stock ride comfort... even with 20" wheels! Now that's a well engineered set of springs!

Front Lowering 1.5"
Rear Lowering 1.1"

This item fits the following BMWs:
2015+ F83 BMW M4 Convertible