BMW MINI StopTech Big Brake Kits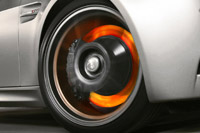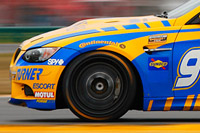 Even the average BMW enthusiast can quickly exceed the stock brake's performance threshold. Factor in increased horsepower, better suspensions, stickier tires, and multiple high speed stops any stock braking system will show its shortcomings. Stock brakes were designed to be used in day-to-day traffic with light pedal pressure and stops from low speeds. They are absolutely unsuitable for regular hard use, either on the street or a racetrack.

Upgrading pads is only the first step - it works for most people who do not regularly push their cars to the absolute limit. But all cars capable of serious speeds should have serious brakes. The real key to better brakes is heat management and bigger is better. Brake rotors act as heat banks - a larger rotor simply has more capacity to store heat. StopTech has also designed their discs with better internal cooling vanes to dissipate the heat faster. Combined with aluminum calipers and rotor hats, this all combines to prevent heat from being trapped and soaking into the components. If not sufficiently released, heat soak will eventually reach into the brake fluid, causing more serious and immediate braking issues. Their engineeering and expertise is why you will find StopTech Brakes on our Turner Motorsport racecars and has led them to Tier 1 OEM status (a direct supplier to several vehicle manufacturers), four industry patents, and TUV and ISO/TS Quality Management System certification for brake systems and components. StopTech Brakes are among the best in the world for performance and racing braking systems. Made in the USA.

Additional Info:
StopTech Brakes Overview
Wheel to Caliper Clearance Charts

For accurate results, specify your model below.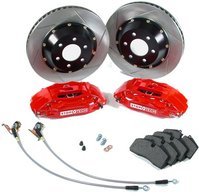 Position:
Front
Caliper:
4-piston ST40
Colors:
black, red, silver, blue, yellow, custom (call)
Rotors:
328x28mm, cross-drilled or slotted
Also Included:
stainless steel brake lines, StopTech Street Performance pads, hardware
StopTech Brakes puts championship-winning race technology and state-of-the-art engineering under your feet. StopTech's Front Big Brake Kit for MINI R50/R53 models is engineered to work with the stock brake hydraulics and ABS/DSC system. StopTech builds each kit around the specific vehicle dynamics, engineering the system to achieve the correct brake balance. This brake upgrade gives better stopping performance in everyday driving, aggressive street driving, or all-out track days. By increasing the rotor size, using a larger pad, and a fixed forged aluminum caliper, you can improve your braking performance substantially for any condition! StopTech Brakes have been used on Turner Motorsport racecars since 2003, winning 5 sports car championships and recording numerous race wins since.
Safety Improvements from A Big Brake Kit:
+ Caliper design improves brake application and increases torque -
braking is stronger meaning shorter stopping distances and faster response
+ Vehicle-specific design -
improves brake feel with a firmer pedal
Part #: 83.138.4300
Free Shipping