Angel Eyes or Halo Rings were first put into widespread use by BMW in the late 1990s and they were an instant hit. BMWs have always had a lot of character in the 'face' of the car and the headlights contributed a lot to that distinctive appearance. The effect was only enhanced with the introduction of Angel Eyes. Cars made before year 2000 can now be retrofitted with the Angel Eye look with conversion kits. The Angel Eye upgrades that we sell come complete with the housings and LED halo rings pre-installed. We only sell completed angel eye conversion kits - not the DIY rings themselves.

We also sell bulb upgrades for existing factory Angel Eye headlights. These bulbs glow a brigher white color instead of dulled yellow. The bright white matches factory xenon colors much better.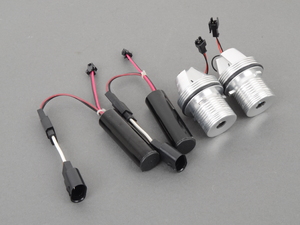 When we wanted our E92 M3 to stand out during the Rolex 2...

When we wanted our E92 M3 to stand out during the Rolex 24 at Daytona we installed these super bright LED angel eye bulbs. They transformed the dim yellow appearance of the factory angel eyes to a bright white light that helps your BMW stand out from the crowd. As part of our preparation before the race we tested tons of different bulbs from dozens of manufacturers. These bulbs offered the highest brightness of any bulb we tested and more importantly the quality of construction was unsurpassed. They lasted the whole 24 hours with no issues! The last thing we wanted was for our M3 to have a black eye or experience the flickering common on lower quality bulbs. If they can withstand the intensity of one of the worlds toughest races then they will certainly perform well on the street.

These upgraded LED angel eye bulbs are easy to install and won't cause any check control system warnings. Sold as a pair. One kit will illuminate all 4 angel eye rings on your BMW. Made from high quality machined aluminum.

This item fits the following BMWs:
2001-2003 E39 BMW 525i 530i 540i M5
2004-2007 E60 BMW 525i 525xi 530i 530xi 528i 528xi 528i xDrive 535i 535xi 535i xDrive 545i 550i M5
2004-2007 E63 BMW 645ci 650i M6
2002-2008 E65 BMW 745i 745li 750i 750li 760i 760li
2004-2006 E53 BMW X5 3.0i X5 4.4i X5 4.8is
2007-2010 E83 BMW X3 3.0i X3 3.0si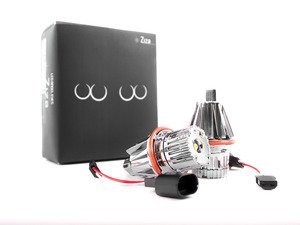 Angel eyes are an important aspect in the styling of your...

Angel eyes are an important aspect in the styling of your BMW, giving it a unique and aggressive appearance. Unfortunately, they halogen bulbs used to illuminate the angel eye rings tend to fade over time, making the rings look dull and yellow. Ziza Performance LED bulbs are the perfect upgrade to not only increase the brightness by 3 times, but also give the rings a more crisp, white light and a longer life span. In addition, these bulbs will not give you a bulb out warning, a common problem with poor quality alternatives.
LED angel eye features:
600 Lumen light output
6000K light color
Up to 30,000 hour life span
OEM installation
Error code free
Up to 3 times brighter then OEM
Fits the following BMWs:
2004-2006 E60 BMW 525i/xi 530i/xi 545i 550i M5 Pre-LCI
2004-2006 E61 BMW 530xi
2004-2007 E63/4 BMW 645Ci Pre-LCI
2002-2008 E65/6 BMW 745i/Li 750i/Li 760i/Li B7 Alpina
2007-2010 E83 BMW X3 N52 3.0L
2003-2006 E53 BMW X5 M54 3.0L
2004-2006 E53 BMW X5 N62 4.4L 4.8L
09/2000-2003 E39 BMW 525i 530i 540i M5
**This non-DOT approved product is for Off-road/Track use only. Not approved for legal street use**