BMW X3 Schrick Performance Camshafts

BMW engines are tuned for top-end power - over 4,500 RPM. If you want to maximize the power available you need to change the camshafts. Schrick is a German performance cam manufacturer renowned for their camshaft tuning and engineering. These are top-of-the-line camshafts from a supplier to some of the world's top automotive brands. AVL-Schrick provides tuning and prototyping to some of the most potent and exclusive performance cars in the world and they have long been the source for BMW performance cams. Installing higher lift/longer duration cams improves engine breathing at higher RPM ranges. By opening the valves faster and for longer periods of time you can let more air in. With the proper fuel and timing you can gain a lot more horsepower. Special tuning and setup is generally required to take advantage of the new dynamics. Schrick cams are direct replacements for the stock cams and usually bolt-in with no additional modification or parts required. In some cases, valvetrain upgrades such as springs and retainers are recommended. Turner Motorsport is a direct Schrick distributor for the North American market. Contact us for all of your Schrick needs!

For accurate results, specify your model below.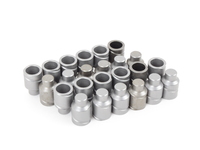 One major hurdle for a track-only car is the limitation of the hydraulic valve lifters in the M50, S50-US, M52, S52-US, M52TU, and M54 engines. These effectively limit your revs to 7200-7300 RPM as the valves 'float' at higher revs, leading to piston-valve contact. By converting to a machined solid lifter, and upgrading other areas of the engine, you can configure the valve train to withstand high RPM running. Not only can you tune for more power, you can help prevent damage during a mild mechanical over-rev.
This kit includes the mechanical spacers to convert hydraulic lifter tappets to solid lifters. The lifter bucket remains in place with the Schrick solid tappet replacing the original. These work on all M50, M52, S50, S52 and M54 engines and were proven in normally aspirated as well as supercharged engines. A custom camshaft is required.
Professional installation and setup is mandatory as these require complete assembly of the head, checking valve lash, then dis-assembly and machining of the Schrick tappet to spec. This kit includes enough spacers for 24 valves. We also carry individual parts, if you are looking for single pieces. This price is for a full set of 24.

Part #: 086311700KT
In Stock
Free Shipping