BMW X3 Hawk HPS Brake Pads
A high-performance street pad with much-improved braking performance and significantly reduced brake dust. The HPS pads are perfect for drivers who don't want an ordinary replacement pad and want something that will hold up during aggressive street driving. With the HPS pads you can expect:
Increased stopping power even when the pads are cold
Longer pad life
Low dust compared with other performance pads
Quiet operation
In addition, the HPS pads are easy on rotors. And Hawk stands behind their pads with a limited lifetime warranty against defects.

For accurate results, specify your model below.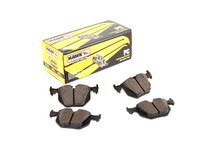 A light-duty street pad with improved levels of dust and noise compared to stock ceramic pads. Hawk Ceramic pads pick up where stock pads leave off. They offer improved stopped power over stock but with less dust and are "noise-free". These pads are intended as a daily-driver pad for conditions normally seen during every day use, not race or autocross environments.
This pad set includes pads for both REAR brakes.
REAR Brake Pad Applications:
2001-2006
E46 BMW
330i 330Ci 330Xi
2001-2006
E46 BMW
M3
1999-2004
E39 BMW
M5
2007
E60 BMW
525i
1995-2001
E38 BMW
740i, 740i Sport, 740iL
2004-2010
E83 BMW
X3 2.5i, X3 3.0i, X3 3.0si
1999-2006
E53 BMW
X5 3.0i, X5 4.4i
2007-2008
E85 BMW
Z4 M Roadster, Z4 M Coupe
2000-2003
E52 BMW
Z8 Roadster
Part #: TMS184003
In Stock