BMW X3 VANOS Units & Parts
The BMW VANOS system (
va
riable
No
ckenwellen
s
teuerung - variable camshaft timing) was introduced in the early 1990s as a way of altering timing based on RPM and engine load to improve torque delivery, fuel economy, and engine smoothness. The first systems were single-VANOS and operated the intake cam only. Beginning in 1999, double-VANOS was introduced that did both intake and exhaust banks (on both inline-6 and V8 engines).
By 150,000 miles the original VANOS actuator solenoids, seals, and o-rings are usually due for a complete replacement. Some individual pieces may have been replaced already. Signs of a dying unit are loud marble-like rattles from the front of the engine, loss of power and mid-range torque, poor fuel economy, and fault codes for misfires and VANOS-related sensors. VANOS sensors, solenoids, and some other parts are available separately. VANOS units can be rebuilt by sourcing the seals and o-rings on their own but that process still requires expert mechanical knowledge and special tools. We prefer to offer complete, rebuilt VANOS units to make the replacement as seamless and trouble-free as possible for you.
Note: all VANOS systems require special tools for correct repair and replacement. These tools are BMW specific. If you do not possess these tools we strongly advise you to bring the parts to a qualified and experienced BMW technician who does.

For accurate results, specify your model below.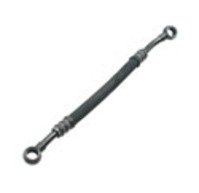 This oil pipe hose runs from the VAN0S adjusting unit to the oil filter housing. At some point the rubber line shrinks or cracks and oil can weep out of the swedge fittings. The fittings at the banjo bolts can also leak so replacing the seals for each banjo fitting is strongly recommended.
This item fits the following BMWs:
1996-1999
E36 BMW
323is 323ic 328i 328is 328ic M3 3.2
1999-2005
E46 BMW
323i 323ci 325i 325ci 325xi 328i 328ci 330i 330ci 330xi
1997-2003
E39 BMW
525i 528i 530i
2004-2005
E60 BMW
525i 530i
2004-2006
E83 BMW
X3 2.5i X3 3.0i
2000-2006
E53 BMW
X5 3.0i
1997-2002
Z3 BMW
Z3 2.3 Z3 2.5i Z3 2.8 Z3 3.0i
2003-2005
Z4 BMW
Z4 2.5i Z4 3.0i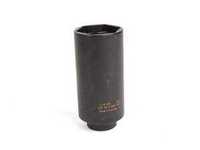 On the M62TU engine the VAN0S solenoids on both banks are buried behind the timing covers. This makes it impossible to use a wrench on them. They're also an extra-large 32mm hex size which most people won't have in their toolbox. This socket is the factory BMW tool for removing the solenoids in the M62TU. It's a thin wall for easy access in the timing cover and a 1/2" drive.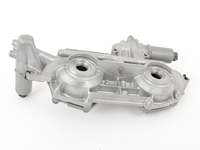 The BMW VANOS system is integral to the performance of your engine. VAN0S is a variable camshaft timing system that uses oil pressure to move camshaft position depending on engine load and demands. VAN0S is always functioning - retarding or advancing the intake and exhaust cams as needed. So when it's not functioning you really feel the difference. The car will be down on power and torque, especially in the mid-range, and your fuel economy will decrease. There may be other telltale signs - camshaft or VAN0S fault codes, misfires and fault codes, and the dreaded "vanos rattle" that signs like marbles in a coffee can but is actually the bearings allowing too much play in the VANOS piston shaft. A new VAN0S unit will do wonders for your car's performance!

Diagnosis and repair depends on what symptoms you have. Trouble codes and faults can usually be traced to a camshaft position sensor or the solenoid not allowing the VANOS to move. But the rattle is a sure sign that the VAN0S is in need of a rebuild. But be aware that a rattling noise could mean other things as well such as the timing chain or tensioner. The typical lifespan of the Original BMW units is 130-150,000 miles. Our rebuilt VAN0S units use better quality bearings, seals, and o-rings, as well as some other tricks, that work better and last longer. How much longer? We don't really know - in over 10 years of selling rebuilt VAN0S units we've never sold a replacement for them!

Our rebuilt and improved dual VANOS units for the M52TU and M54 engines come complete with rebuilt solenoids, all new seals, o-rings, bearings, and the VAN0S cover gasket. It's ready for installation right out of the box. A core charge applies so we can continue to offer rebuilt units at an attractive price (a third of the price of a Genuine BMW unit!). This rebuilt unit is as complete as possible to get back that missing power and smoothness as quickly as possible.
Includes $150 refundable core charge

This item fits the following BMWs:
1999-2005 E46 BMW 323i 323ci 325i 325ci 325xi 328i 328ci 330i 330ci 330xi
1999-2003 E39 BMW 525i 528i 530i
2004-2006 E60 BMW 525i 530i - with M54 engine
2004-2006 E83 BMW X3 2.5i X3 3.0i
2000-2006 E53 BMW X5 3.0i
1999-2002 Z3 BMW Z3 2.3 Z3 2.5i Z3 2.8 Z3 3.0i
2003-2006 E85 BMW Z4 2.5i Z4 3.0i br>
Part #: 11361440142rKT
Free Shipping