BMW X3 iPod iPhone Adaptors & Auxiliary Input Kits
The Ultimate in BMW iPod - iPhone integration kits! This DICE iPod - iPhone integration kit allows full control of your iPod from the factory radio or steering wheel controls (on applicable models), displays the song/artist/album/playlist on screen of radio/Nav (2000+ models), charges your iPod - iPhone, features Auxiliary Input 1/8" Jack for playing tunes through non-iPod devices (Zune, Android Phones etc), and much more!

For accurate results, specify your model below.
Hands-free calling for vehicles not equipped with factory installed Bluetooth™. Universal - can be used in any BMW or other car. Built in noise reduction and echo cancellation technology. Blue LED back lighting to signal an incoming call. Omni-directional microphone for improved sound quality. 14 hour talk time.

Part #: 84642219270
Ships in 5 days

Free Shipping
on orders $99 and up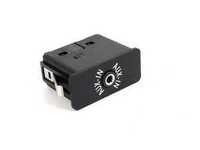 Genuine BMW Aux-In Socket
This item fits the following BMW Chassis:
E60 M5,E63 M6,E70 X5M,E71 X6M,E82 1M Coupe,E85 Z4M,E63,E65,E70 X5,E71 X6,E82,E83 X3,E85 Z4,E86 Z4,E89 Z4,E90,E92,E93,F01,F02,F06,F10,F12,F13,F25 X3,F26 X4

Part #: 84109237655
In Stock

Free Shipping
on orders $99 and up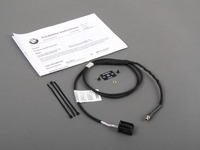 Not for cars with Navigation
What to play your iPhone, iPod, or any other MP3 player through your E39, X3, or X5 factory stereo? This Genuine BMW auxiliary input kit will allow you to connect any device with a standard 3.5mm (1/8") headphone type jack.
Plug the Aux Input into the back of your factor radio, run the included 5" cable to a location of your choice (glovebox or under dash are popular locations) and mount the plug connector.
This item fits the following BMWs:
2003
E39 BMW
525i 530i 540i M5 - Not for cars with Navigation
2004-2010
E83 BMW
X3 2.5i X3 3.0i X3 3.0si - Not for cars with Navigation
2004-2006
E53 BMW
X5 3.0i X5 4.4i X5 4.6is X5 4.8is - Not for cars with Navigation

Part #: 82110149390
In Stock

Free Shipping
on orders $99 and up