BMW Z8 Radiator Hoses, Cooling Hoses, & Hose Sets

Rubber cooling hoses become dry and crack over time which leads to coolant leaks from the ends of the hose. Hoses should be inspected as part of a yearly evaluation of your cooling system. Caring for the rubber will prolong the life of the hose. Our replacement hoses are a direct fit in place of the stock hoses. We also sell OE-type hose clamps that are superior to the auto store generic versions.

For accurate results, specify your model below.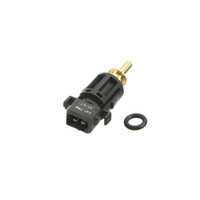 This Cooling system temperature sensor mounts into the lower radiator hose.
This item fits the following BMWs:
2008+
E82 BMW
128i
1999-2005
E46 BMW
323i 323ci 325i 325ci 325xi 328i 328ci 330i 330ci 330xi M3
2006+
E90 BMW
325i 325xi 328i 328xi 328i xDrive 330i 330xi
2007+
E92 BMW
328i 328xi 328i xDrive
2007+
E93 BMW
328i
1999-2003
E39 BMW
525i 528i 530i 540i M5
2004-2010
E60 BMW
525i 525xi 530i 530xi 545i 550i M5
2004+
E63 BMW
645ci 650i M6
1999-2001
E38 BMW
740i 740il 750il
2002-2008
E65 BMW
745i 745li 750i 750li 760i 760li
2004-2006
E83 BMW
X3 2.5i X3 3.0i
2000-2006
E53 BMW
X5 3.0i X5 4.4i X5 4.6is X5 4.8is
2007-2013
E70 BMW
X5 3.0si X5 4.8i X5 xDrive30i X5 xDrive48i X5M
2007-2014
E71 BMW
X6 xDrive50i X6M
2003-2008
Z4 BMW
Z4 2.5i Z4 3.0i Z4 3.0si Z4 M Roadster M Coupe

Part #: 13621433077
In Stock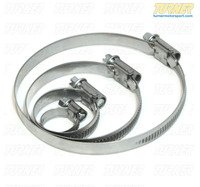 Hose clamps for radiator hoses, coolant hoses, vacuum hoses, or intake hoses. These hose clamps are the same style as your OEM hoses with a smooth inside band to prevent cutting into the hose material.
Features:
9mm band width
6mm hex & slotted head
Smooth inside of band = optimal hose protection
OEM
430 Stainless steel band and housing with zinc plated steel screw
Asymmetric housing = even distribution of forces and prevents tilting of the clamp when tightening
Screw support = ease of assembly due to the safe guidance of the emerging band
Short housing saddle = even contact pressure = improved efficiency


| Part Number | Description | Clamping Range in MM | Clamping Range in Inches |
| --- | --- | --- | --- |
| 008-12T | 8-12 HOSE CLAMP | 8mm-12mm | 5/16"-1/2" |
| 008-16T | 8-16 HOSE CLAMP | 8mm-16mm | 5/16"-5/8" |
| 012-20T | 12-20 HOSE CLAMP | 12mm-20mm | 1/2"-3/4" |
| 016-27T | 16-27 HOSE CLAMP | 16mm-27mm | 5/8"-11/16" |
| 020-32T | 20-32 HOSE CLAMP | 20mm-32mm | 3/4"-1 1/4" |
| 025-40T | 25-40 HOSE CLAMP | 25mm-40mm | 1"-1 5/8" |
| 030-45T | 30-45 HOSE CLAMP | 30mm-45mm | 1 3/16"-1 3/4" |
| 032-50T | 32-50 HOSE CLAMP | 32mm-50mm | 1 3/8"-2" |
| 040-60T | 40-60 HOSE CLAMP | 40mm-60mm | 1 5/8"-2 3/8" |
| 050-70T | 50-70 HOSE CLAMP | 50mm-70mm | 2"-2 3/4" |
| 060-80T | 60-80 HOSE CLAMP | 60mm-80mm | 2 3/8"-3 1/8" |
| 070-90T | 70-90 HOSE CLAMP | 70mm-90mm | 2 3/4"-3 1/2" |
| 080-100T | 80-100 HOSE CLAMP | 80mm-100mm | 3 1/8"-4" |
| 090-110T | 90-110 HOSE CLAMP | 90mm-110mm | 3 1/2"-4 3/8" |
| 110-130T | 110-130 HOSE CLAMP | 110mm-130mm | 4 3/8"-5 1/8" |

Part #: Hose-Clamps
In Stock

Free Shipping
on orders $199 and up