BMW Z8 Thermostats

BMW thermostats. Don't take chances! Proper maintenance is required to keep your car performing at peak levels. The thermostat basically controls when your car will overheat. Don't let it fail on you. We carry both OEM BMW thermostats and low temp aftermarket BMW thermostats for use in hot climates or track/race use

For accurate results, specify your model below.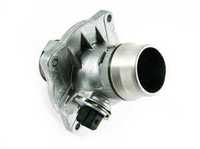 Don't take chances! Proper maintenance is required to keep your BMW performing at peak levels. The thermostat basically controls when your car will overheat. The sensor on the housing is also used by the engine computer to set the fuel mapping on the engine. A faulty sensor or thermostat will lead to the engine running rich (too much fuel). This thermostat fits BMW E39 540i 99-03 E38 740i 99-01 X5 4.4i 4.6is 99-2003 with M62 engine.
Hailing from Stuttgart, Mahle-Behr specializes in automotive cooling systems. From air conditioning to engine cooling M-B has you covered with OE-quality replacement parts.
This item fits the following BMWs:
1999-2001
E38 BMW
740i 740il
1999-2003
E39 BMW
540i
1999-2003
E53 BMW
X5 4.4i X5 4.6is

Part #: 11531436386
In Stock

Free Shipping
on orders $199 and up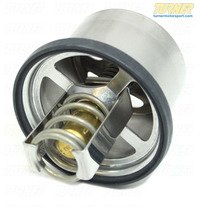 Don't take chances! Proper maintenance is required to keep your car performing at peak levels. The thermostat basically controls when your car will overheat. Don't let it fail on you. This thermostat fits BMW E39 M5 E34 M5 and Z8
This thermostat fits the following BMWs:
1991-1993
E34
BMW M5
1998-2004
E39
BMW M5
2000-2003
E52
BMW Z8
Packaged by Turner
Part #: 11537835558
In Stock

Free Shipping
on orders $199 and up