BMW Z8 Wheel Bearings & Hub Assemblies

OEM Front Wheel Bearing Hub Assemblies (Some are SKF, FAG and Koyo). These Front wheel bearing hubs meet all of the OE specifications for fitment and life. These wheel bearing hubs are the best you can buy we use these same brands on both our race cars and street cars.

For accurate results, specify your model below.
Since established in 2004, GSP North America has positioned itself as a leading supplier of New Axles in North America.GSP's new axle program consistently offers the best application coverage, most SKU count, and more new numbers than any other competitors. GSP's hub assembly program was introduced to North America market in 2010 and has grown into one the most trustable programs in US market.
This item fits the following BMWs:
E39 BMW 525i 528i 530i 540i
E52 BMW Z8

Part #: 274172
In Stock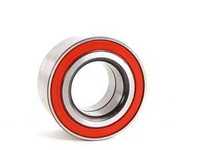 OEM INA wheel bearing to replace BMW part # 33411090505 and 33411137685. When wheel bearing begin to fail you normally will here a squeaking or grinding noise or sometimes feel a slight amount of vibration in the steering wheel. Be sure to replace these asap to prevent possible damage to the hub or steering issues.
OEM Schaeffler (INA, LuK, & FAG) is an engineering company that focuses on high-performance, precision manufacturing. With their individual brands INA, Luk, and FAG providing exceptionally high quality parts directly to BMW, as well as countless other automotive companies, their history of reliability and variety of offered parts makes Schaeffler a go-to replacement parts provider for all of us here at Turner Motorsport.
As a leading source of high performance BMW parts and accessories since 1993, we at Turner Motorsport are honored to be the go-to supplier for tens of thousands of enthusiasts the world over. With over two decades of parts, service, and racing experience under our belt, we provide only quality performance and replacement parts. All of our performance parts are those we would (and do!) install and run on our own cars, as well as replacement parts that are Genuine BMW or from OEM manufacturers. We only offer parts we know you can trust to perform!
This is a replacement rear wheel bearing for all:
1992-1998 E36 BMW M3
1999-2005 E46 BMW 325xi 330i 330ci 330xi M3
1995-2001 E38 BMW 740i 740il 750il
2004-2010 E83 BMW X3 2.5i X3 3.0i X3 3.0si
1997-2002 Z3 BMW M Roadster M Coupe
2003-2008 E85 BMW Z4 M Roadster M Coupe
2000-2003 E52 BMW Z8 Roadster


Rear wheel bearings are sold individually, and 2 are required per car.

Part #: 33411090505
In Stock

Free Shipping
on orders $199 and up
This is a replacement rear wheel bearing for all:
1992-1998
E36 BMW
M3
1999-2005
E46 BMW
325xi 330i 330ci 330xi M3
1995-2001
E38 BMW
740i 740il 750il
2004-2010
E83 BMW
X3 2.5i X3 3.0i X3 3.0si
1997-2002
Z3 BMW
M Roadster M Coupe
2003-2008
E85 BMW
Z4 M Roadster M Coupe
2000-2003
E52 BMW
Z8 Roadster
Rear wheel bearings are sold individually, and 2 are required per car.
Packaged by Turner
Part #: 33411090505
In Stock

Free Shipping
on orders $199 and up