BMW Z8 Steering Racks & Power Steering Pumps

Part of your BMW's 'Ultimate Driving Machine' nature comes from its responsive and precise steering. So when a steering component is failing you know right away with an obvious symptoms and side effects that may ruin the driving experience. We offer all of the steering components to restore your BMW's precision and safety - power steering racks, pumps, belts, steering shafts, tie rods, and more. Don't see what you need - give us a call or e-mail!

For accurate results, specify your model below.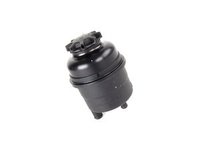 This is a replacement power steering fluid reservoir. Why replace the reservoir? Because the connection between the reservoir tank and the hoses is one of the prime locations for power steering leaks on these cars. It's mostly due to the style of clamp that BMW used. But also any replacement clamps are usually over-tightened on these plastic reservoir nipples. There is also a filter inside the reservoir that cannot be changed or serviced. So it's a good idea to replace the tank and get a new filter at the same time. With fresh fluid and a clean filter you might be able to restore some steering smoothness and precision to your BMW! Alternate part number - 32416851217. Reservoir includes new cap with o-ring.
This item fits the following BMWs:
1984-1991
E30 3 Series
BMW 318i 318is 318ic 325e 325es 325i 325is 325ix 325ic M3
1992-1998
E36 3 Series
BMW 318i 318is 318ic 318ti 323i 323is 323ic 325i 325is 325ic 328i 328is 328ic M3
1999-2005
E46 3 Series
BMW 323i 323ci 325i 325ci 325xi 328i 328ci 330i 330ci 330xi M3
1989-1995
E34 5 Series
BMW 525i 530i 535i 540i
1997-2003
E39 5 Series
BMW 525i 528i 530i 540i
2004-2010
E60 5 Series
BMW 525i 525xi 528i 528xi 530i 530xi 545i 550i - not for cars with active steering or dynamic drive
2004+
E63 6 Series
BMW 645ci 650i - not for cars with active steering or dynamic drive
1989-1994
E32 7 Series
BMW 735i 740i - not for cars with self leveling suspension
1995-2001
E38 7 Series
BMW 740i 740il - not for cars with self leveling suspension
2004-2006
E83 X3
BMW X3 2.5i X3 3.0i
2000-2006
E53 X5
BMW X5 3.0i X5 4.4i X5 4.6is X5 4.8is
1997-2001
Z3
BMW Z3 1.9 Z3 2.3 Z3 2.5i Z3 2.8 Z3 3.0i M Roadster M Coupe
1997-2001
E85 Z4
BMW Zi M Roadster Z4 M Coupe
2000-2003
E52 Z8
BMW Z8 Z8 Alpina

Part #: 32411097164
In Stock

Free Shipping
on orders $199 and up