BMW Z8 Stock OEM Replacement Brake Pads
Turner Motorsport does not usually sell the OE or OEM type brake pads. The typical TMS customer is looking for better-than-stock braking performance. But there are some cases where the stock pads actually perform pretty well. Or in some cases, our pad suppliers have not come out with an option for a newer model yet and the OEM pad is the only current option. For these customers, we offer Genuine BMW pads or pads from Original Equipment Manufacturers like Ate, Textar, Pagid, and others.

For accurate results, specify your model below.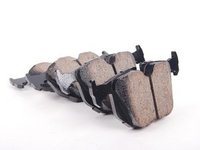 Ceramic Brake pads have advanced a great amount and show drastic advantages over traditional metallic and semi-metallic brake pads. Akebono in particular has been producing brake pads for major brands for years and their Euro brake pads have seen use in over 90 models of vehicles as the OE brake pads, ensuring high, consistent quality.
Thanks to Akebono's pad formulation, you can enjoy many benefits including:
Reduced Heat Absorption
Reduced Brake Fade
Reduced Stopping Distances
Significantly Less Brake Dust
Increased Brake Rotor Life

This item fits the following BMWs:
2001-2006 E46 BMW 330i/ci/ci M3
2000-2003 E39 BMW M5
2007 E60 BMW 525i
1995-2001 E38 BMW 740i/iL 750iL
2000-2003 Z8 BMW
2006-2008 E85 BMW Z4
2000-2006 E53 BMW X5
2004-2010 E83 BMW X3

Part #: EUR683
In Stock
Free Shipping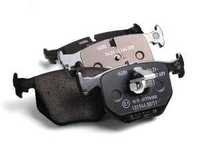 These pads were originally equipped on the E39 M5, E46 M3, and Z4 M models. Owners of the E39 M5 and E46 M3 will know that the stock pads are already quite 'aggressive' from the factory with a lot of initial bite. The initial bite was built into the pad to stop criticism of BMW's lack of 'performance' brakes. Instead of building the M models with exotic - and expensive - multi-piston calipers, BMW engineers turned up the braking power in their pads. For the street, these are excellent brake pads with excellent feel and performance. The only downside is the dust that comes from an organic pad. The problem with many aftermarket and OEM pads is that they do not match the same level of initial bite as the stock OE BMW pads. This can make the brakes feel 'weak' and 'numb' even though the pads are working properly. If you want to maintain your braking feel, these are the best to use.
Although these pads were originally designed for M cars, they fit other models as well, making them a great first-step upgrade for better braking.
Price is for one set of pads - enough to replace the pads on both rear calipers.
These rear pads fit the following BMWs:
1999-2006
E46 BMW
330i 330ci 330xi M3
1997-2003
E39 BMW
M5
2004-2010
E60 BMW
525i -2/07
2004-2010
E60 BMW
530i 530xi 528i 528xi 528i xDrive 535i 535xi 535i xDrive
1995-2001
E38 BMW
740i 740il 750il
1990-1999
E31 BMW
840i 840ci 850i 850ci 850csi
2004-2010
E83 BMW
X3 2.5i X3 3.0i X3 3.0si
2000-2006
E53 BMW
X5 3.0i X5 4.4i X5 4.6is X5 4.8is
2003-2008
E85 BMW
Z4 M Roadster M Coupe
2000-2003
E52 BMW
Z8 Roadster

Part #: 34216761248
In Stock

Free Shipping
on orders $199 and up