BMW Z8 Body Trim Parts & Accessories
BMW exterior and body trim includes glazing, window trim, glass, moldings, door covers and handles, trim panels, blackline trim, window mouldings, antenna, jack pads, convertible top parts, door lock equipment, exterior-mounted sensors (temp sensors), splash wall panels, wheel well liners, windshield trim and cowl covers, headlight eyelids, tow hook covers, license plate frames, and more. We get our BMW trim pieces from BMW directly (unless noted) - not aftermarket parts with poor quality.

For accurate results, specify your model below.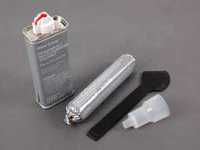 Betalink K1 (Beta Link) adhesive for installation of many aerodynamic components including spoilers and splitters. This is the Genuine BMW adhesive kit that they recommend for Genuine BMW aerodynamic pieces and is specially formulated for the paint and urethane spoiler materials that BMW uses.
This is the basic kit that includes:
solvent cleaner (125mL)
1-part epoxy (80mL)
sandpaper
applicator tool (spatula)
For best results:
Bonding surfaces must be cleaned with the cleaner and must be free from grease.
The ambient temperature for bonding must be no lower than 15°C and no higher than 35°C.
The Betalink glue K1 must be allowed to harden for at least 6 hours at room temperature.
The car must not be cleaned in a car wash for at least 48 hours afterwards.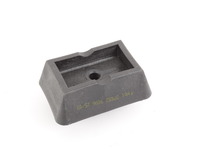 This OEM jack plug is used on many BMWs to protect the under carriage while jacking. They install into receptacles under the rockers at all 4 corners, and give your BMW a "puck" for the cars weight to rest on.
These jack pads commonly get lost or damaged through the years. If your BMW is missing a few (or all) of them, it's time to get some new ones. Very easy to replace and install, these take just seconds to replace. We've found that on the 1992-1999 E36 3 series these make a GREAT upgrade to the original ones normally found on the E36. Be sure to get a complete set of 4 if you are installing these on an E36 (these are sold individually).
Found and used on the following BMWs:
1992-1999
E36 3 series
-
UPGRADE
for all E36, including E36 M3, 318i, 318is, 318ti, 325i, 325is, 325ic, 328i, 328is, 328ic, 323is
1999-2005
E46 3 series
(including 323i, 323Ci, 325i, 325xi, 325Ci, 328i, 328Ci, 330i, 330xi, 330Ci, and E46 M3)
2002-2008
E65 7 series
including 745i, 745Li, 750i, 750Li, 760Li
2003-2008
Z4 Roadster & Coupe
2004-2008
X3
SAV including X3 2.5, X3 3.0, X3 3.0si
2000-2006
X5
SAV including X5 3.0, X5 3.0si, X5 4.4, X5 4.6is, X5 4.8is