Z8 Shifter Bushings
Where we feel the most connected to our BMW is the shifter. A precise, snappy, sharp shift gives you the tactile and rewarding feel unlike any other. If your shifter is more slop than shift, it is time to replace or upgrade your shift bushings. Choose between our upgraded carriers bushings and shifter bushings to give your driving experience a serious upgrade, or bring back the factory precision with repair kits.

For accurate results, specify your model below.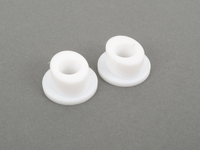 Shifter slop is a common complaint among all BMW models. Some of that play comes from the bushings where the shifter carrier mounts to the transmission. The original rubber carrier bushings don't last very long and when they get too soft the shifter flops around. These Teflon bushings are not as stiff as Delrin so they won't transmit as much vibration and buzz in the shifter. Yet Teflon will last much longer than the factory rubber, giving you precise shifting for many years.
Note: this is only one part of the shift linkage and there may be other components that need replacing to improve shifting feel.
We advise getting a replacement bushing carrier pin as well. If the original rubber bushings are worn the pin will have wear too and you will still have slop in the shifter, even with the new bushings.
These are the OVAL shifter carrier bushings (some BMW models have round bushings).

This item fits the following BMWs:
1992-1998 E36 BMW 328i 328is 328ic M3
1999-2002 E46 BMW 328i 328ci 330i 330ci
2001-2006 E46 BMW M3
1997-2003 E39 BMW 540i M5
1997-2002 Z3 BMW Z3 1.9 Z3 2.3 Z3 2.5i Z3 2.8 Z3 3.0i M Roadster M Roadster
1999-2003 E52 BMW Z8

Part #: 25117507695T
In Stock

Free Shipping
on orders $199 and up

This bushing is the point where the shifter arm pivots. If you are experiencing excess play in your shifter, this could be the cause. Worn out shifter ball bushings allow too much movement from wear over time.

Part #: 25111220600
In Stock

Free Shipping
on orders $199 and up