BMW Z8 Performance Headers & Downpipes

Headers are a bolt-on component that will make a huge improvement in how your BMW performs. As a replacement for your factory BMW exhaust manifold, our BMW headers provide a more direct path for exhaust gasses leaving your engine. Headers prevent your BMW's exhaust pulses from "fighting" one another as they leave the head. The end result is that BMW headers give you more power and torque, and you'll love the high-winding top end push that a free-breathing engine exhibits. BMW headers are a must-have if you're doing any engine modifications on your vehicle. Along with a cold air intake, BMW headers provide the free-flowing exhaust necessary to get the most power out of your motor.

For accurate results, specify your model below.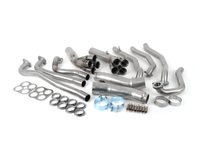 Free ground shipping!
The stock headers on the Z8 are no different than what came on the BMW 540i and M5. Meaning, they're compromises for cost, sound, and fitment. That's why Supersprint tubular headers are one of the must-have performance items for the Z8's engine. These equal length, stainless steel headers replace the stock manifolds for an instant power and sound upgrade. The stock exhaust manifolds are compromises and severely restricted. This header kit opens up the exhaust for a less restrictive flow. There is a beautiful sound to go with the torque and horsepower improvements. This system comes with an adapter to fit with the stock catalytic converters (modification required). Or use the full Supersprint exhaust system, with its larger piping diameters, for better flow and more power.

Supersprint exhaust is widely recognized as the leader in complete exhaust system upgrades - extremely high quality, well designed for optimal flow, and amazing sound. Even at a premium price Supersprint is an unbeatable exhaust system because every aspect is done to such a high level. A Supersprint exhaust rewards you with a terrific sound, long lasting construction and excellent fitment. The Supersprint sound is very 'European' which fits the sporting sophistication of BMWs perfectly. Most systems are also modular - sections can be added or removed to custom tailor the exhaust sound to your preferance. Aside from 'Race' systems, their mufflers meet European noise laws so you get a refined and tuned sound without being excessively loud. Most Supersprint systems are built with larger diameter piping to improve exhaust flow which helps the engine do less work and make more horsepower! Supersprint exhausts generally run at a premium over other systems but no other system on the market can match their quality, performance, or reputation!

NOTE: Supersprint engineers and manufactures complete exhaust systems. This part was designed to be used with the rest of the Supersprint system on this car but may be used on its own. Contact us for more details.
This part alters or deletes the emissions equipment on your car, and may not meet emissions standards in all states. Because of this, we require a waiver of emissions compliance to be signed and sent in to TMS. You can download the waiver here.
section:headers
connects to:OEM cat or Supersprint cats
material:T304 stainless steel

This item fits the following BMWs:
2000-2003 E52 BMW Z8 Roadster (left-hand drive model)

Part #: 789501KT
Ships on Apr 18, 2018