BMW Z8 Suspension Bushings & Mounts

Suspension mounts are designed to absorb the energy of the shocks and springs and isolate road harshness from the chassis. But over time the original rubber mounts will crumble and fail. We have stock mounts and bushings as well as a wide selection of upgraded and heavier-duty for performance street cars. We also offer a full selection of race only bushings and mounts. Simply choose your car below. Included here you will find rear shock tower mounts, front strut mounts, subframe mounts, lower control arm bushings, rear trailing arm bushings, and more.

For accurate results, specify your model below.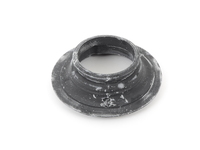 This is the front upper spring pad. It is a good idea to replace spring pads while replacing shocks or springs. Sold Individually.
This item fits the following BMWs:
1999-2005
E46 BMW
M3 M3 convertible
1997-2003
E39 BMW
528i 530i 540i M5
2006-2010
E60 BMW
M5
2006-2011
E63 BMW
M6
1995-2001
E38 BMW
740i 740il 750il
2002-2008
E65 BMW
745i 745li 750i 750li 760i 760li
2000-2006
E53 BMW
X5 3.0i X5 4.4i X5 4.6is
2006-2008
Z4 BMW
Z4 M Roadster M Coupe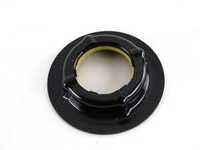 If you are removing or changing the front struts or springs or replacing the upper strut mount, NOW is the perfect time to replace this upper spring perch. BMW calls it a "upper spring pocket with axial cage bearing". It's really the upper spring plate with the radial bearing set sandwiched between two plastic collars. The bearing is there to allow the spring to rotate a little before going into a bind. If there are popping noises coming from the front strut it's probably because this bearing set is worn or missing. The bearing insert is a common wear item becoming noisy, gritty, or will just fail completely. You won't feel that they're bad from driving the car but you may hear clunking or popping sounds from the front struts. You can replace the rubber mounts on the car but don't leave this part out! It may be just as worn and you won't want to put them back in the car. These are sold individually, so be sure to get two for your car.
The radial bearing set is used in some of our camber plate designs. It's compact, light weight, easy to replace, and inexpensive. It's an excellent alternative to pricey and obscure ball bearing sets found in other camber plates.
Upper Bearing/Spring Perch Applications:
1994-2001
E38
740i, 740iL, 750iL
1997-2003
E39
528i, 530i
with EDC - electronic damping control - suspension only
1997-2003
E39
540i, M5
2001-2006
E46
M3
2000-2003 E52
Z8
Roadster, Alpina Roadster
1999-2006 E53
X5
, including 3.0, 4.4i, 4.6is
2006-2010
E60
M5
2006-2010
E63, E64
M6 coupe, cabrio
2002-2008
E65, E66
745i, 745Li, 750i, 750Li, 760Li
2006-2008
E85, E86
Z4 M Roadster, M Coupe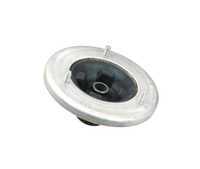 Upper shock mounts and bearings are good to replace while replacing front shocks. It is easier and often less expensive to replace them preventatively than to have them fail shortly afterward and have to take apart the whole suspension a second time. This front shock tower bearing fits BMW E39 540i M5 and Z8.
It's also a good idea to replace the upper spring plate and bearing at the same time. Often, these bearings are worn out and should not be put back in the car. See below for the link to add these to order too.
This item fits the following BMWs:
1997-2003
E39 BMW
540i M5
1997-2003
E39 BMW
528i 530i -
only for cars with EDC - electronic damping control
E52 BMW Z8 Z8 Alpina