BMW Active Autowerke Superchargers
Supercharging is, without a doubt, the best "bang for the buck" as far as performance upgrades are concerned. Imagine the feeling of driving your M3 with an additional 50% (or more) horsepower and torque. Stomp on the gas and your BMW will respond immediately! No turbo lag, or loss of responsiveness. Just immediate gratification!
Supercharged cars drive just like a stock car on steroids! Highway gas mileage, drivability, and interior noise are virtually unaffected. Only a slight whining noise, heard only from outside the car, give away the fact that you are driving a car that will beat almost anything on the road.
Active Autowerke is the leading developer of supercharging systems for BMW's. With thousands of their supercharger systems on the road you can be assured of the quality, reliability and horsepower gains.

For accurate results, specify your model below.
No one buys an M3 because they like limits.
This carefully engineered kit matches the Rotrex C38 supercharger with the perfect hardware, software and tuning to take the factory 240 HP straight up to 360 HP (with the potential for even more power with additional upgrades).
Best of all, if your craving for more power is still insatiable, there is a higher upgrade Level 2 featuring more boost and a front mounted air to air intercooler. The Active Autowerke supercharger systrem is truly modular and fully upgradeable.
Running on 91-93 octane pump fuel with full emissions system intact, this system has stood the test of real world conditions and delivers thrill-worthy performance on demand while still retaining that BMW feel for a comfortable daily commute.
Key Features;
Rotrex C38 Supercharger
Mounting bracket, pulleys and belt
6 larger high-flow fuel injectors
Active Autowerek Performance Air Filter
Active Autowerke Dyno-Tuned Software
All mounting hardware, plumbing, hoses and clamps
Illustrated instruction manual & installation guide
2 Year Warranty with free tech support
Performance Specs:
Power : 360 BHP @ 6900 rpm
Torque : 300 ft-lbs @ 5700 rpm
Boost Level : 7.0 psi

Want even more power? Upgrade to the Stage 2 kit with Intercooler.
The level 2 version of this system brings you car to another level, boasting a large front mount air to air intercooler and comes complete with all piping and hardware required to make this bolt on application work. This upgrade increases your car HP an additional 30-40HP over the stage 1 system. The stage 2 upgrade also includes an new high performance fuel pump to help deliver the necessary fuel. With the reliability and performance of an intercooled system along with our perfectly tuned software this system is a must for the true enthusiast looking to bring their M3 to new heights.

Custom built to order. Please allow 2-3 weeks for delivery.

This item fits the following BMWs:
1995-1999 E36 BMW M3, M3 Convertible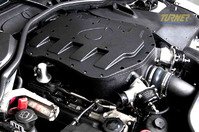 The advanced design and sleek features of the Active Autowerke Supercharger System include a front mount air-to-air intercooler system with a separate oil cooler for the supercharger unit's independent oil system. The Active Autowerke Supercharger Plenum replaces the factory air box and is designed to have an OEM-type look with custom finishes available at the customer's request. The Active Autowerke Supercharger Plenum has been designed with eight high-flow velocity stacks, and large three inch intercooler piping to supply cooled air.
The custom Active Autowerke Filter mounts to the supercharger unit and is enclosed in a custom intake box engineered to incorporate factory design while forcing cool air to the air box.
The standard finish on the Active Autowerke Supercharger Plenum is a matte wrinkle black, custom colors are also available for an additional cost.
The Active Autowerke Supercharger System is powered by an Rotrex C38-92 Supercharger Unit mounted with a custom CNC'ed bracket that uses a dedicated drive belt system, while eight high flow fuel injectors are used to supply the additional required fuel. Active Autowerke's Performance Software, available for 91-93 octane, race gas, and octane levels unique to other countries, is carefully calibrated, and is at the heart of the system to provide an unparalleled driving experience. Keeping within the factory's OBDII parameters, the Active Autowerke Supercharger System ensures consistency for everyday driving.
Key Features:
AA E9X M3 Supercharger Plenum with Eight High-flow Velocity stacks
Rotrex C38-92 Supercharger
AA Blow Off Valves & Bypass Valve
Dedicated Belt Drive System (does not share belt with accessories)
Eight-rib Pulley System
Eight High-capacity Bosch Motorsport Fuel Injectors
AA Performance Software for the MSS60 ECU with available upgrades and off road options
CNC Hard Anodized Brackets and Hardware
AA Front-mount Air to Air Intercooler
Independent Supercharger Oil Cooler
Longlife Traction Fluid for GTS8550 Supercharger
Cold Air Intake Box
AA Oil Breather System
New Oil Line with A/N Fitting System
High Performance AA Spec Filter
Colder Heat Range Spark Plugs
All mounting hardware (plumbing, hoses and clamps) included
Detailed, step-by-step installation manual
All installation hardware included
Two-year unlimited mileage warranty

Stage 1 Performance Specs: (At the Crank)
Boost: ~ 6 psi
Horsepower: 580 HP
Torque: 386 Ft Lbs
numbers may vary depending on engine,weather,etc.

Want even more power? Upgrade to the Stage 2 kit.
Stage 2 Performance Specs:
Boost: 8 psi
Horsepower: 640 HP
Torque: 413 Ft Lbs
numbers may vary depending on weather,conditions,etc


This item fits the following BMWs:
2008-2011 E90 BMW M3 - Sedan
2008-2013 E92 BMW M3 - Coupe
2008-2013 E93 BMW M3 - Convertible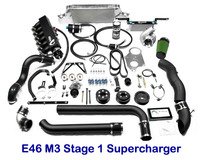 Race on Sunday, to sell on Monday. This old saying is indicative of the new Generation 8 supercharger system for the E46 M3. Through countless hours of testing, it has often been quoted that the true test has always been a race environment. What better venue than Brock Yates One Lap of America Race. With a rigorous 7,000 miles to be covered within a week, and to compete against the likes of Porsches, Corvettes, Nissan GTRs, this would be the testing grounds for the new Generation Active Autowerke Supercharger system. The Active Autowerke Generation 8 Supercharger System not only proved its worth by being the highest ranked BMW within the field, but also ranked 1st in its class..
The data and technology that made this winning combination is now being applied in the new Generation 8 of the Active Autowerke supercharged E46 M3 level 1. Reliability and power is needed if you want to be on the podium, and this new Generation 8 will deliver exactly that. Consistent, repeatable runs of over 415 WHP (525 engine horsepower) were also recorded on the Active Autowerke chassis dyno in hot 94 + degree Fahrenheit conditions with humidity in the 60% + range. These run conditions might be considered a deterrent and not really suited, but it is better knowing the horsepower numbers are under such conditions, since higher horsepower numbers will only increase as the temperature falls and the air becomes more dense.
Stage 1 Performance Specs:
Power : 525 BHP @ 7650 rpm
Torque : 335 ft/lbs @ 5400 rpm
Boost Level : 7-8 psi
Key Features:
Rotrex 92 Trim Supercharger
Active Autowerke Gen 7 Intake Manifold w/ Dual By Pass Valve
Front Mount Air to Air Intercooler
Turbo like speed with linear power delivery
Large Fuel Injectors
Supercharger Oil Cooler
Colder Heat Range Spark Plugs
High Performance AA Spec Green Filter
Active Autowerke High Performance Software
All Mounting Hardware, plumbing, hoses and clamps
Proven Horsepower gains even under extreme conditions
Installation Instructions included
2 Year Limited Warranty
Want even more power? Upgrade to the Stage 2 kit with Larger Intercooler & Fuel System.
The stage 2 System boosts the S54's power output to over 600BHP and includes an upgraded fuel system (includes two fuel pumps, fuel filter, all new -6 lines, fuel pressure regulator, dead end fuel rail, upgraded injectors and all required fittings). This ugpraded fuel system is a must once reaching these increased boost levels due to the fact that the factory fuel system is simply inadequate at this level. The stage 2 system also use a larger front mount air to air intercooler and the Active Autowerke custom methanol injection system. NOTE: Level 2 supercharger system is designed and engineered to operate in conjunction with the Active Autowerke Water/Methanol system as an integral part of the kit. Reasons to incapacitate, isolate, turn off, or not installing this system can and will void all warranty and related claims associated to the proper function of the specified Active Autowerke supercharger system.

Stage 2 Performance Specs:
Power : 605 BHP @ 7000 rpm
Torque : 395 ft/lbs @ 5400 rpm
Boost Level : 11-12 psi

Custom built to order. Please allow 2-3 weeks for delivery.

This item fits the following BMWs:
2001-2006 E46 BMW M3, M3 Convertible