BMW Holiday and Christmas Gifts under $25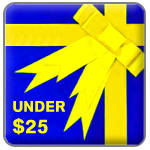 Holiday Gifts under $25

For accurate results, specify your model below.

Make any piece of clothing or fabric FASTER! Ok -- the faster part is up to you. But these patches can certainly help dress up virtually anything, like a race suit, gloves, or other favorite piece of driving clothing. Available in 2 different sizes (SMALL 1.75" x 0.5" or LARGE 4.25" x 1.25") and 2 colors (blue or white background). Select your desired size and color below. 25-cent piece (quarter) not included.
Instructions for use:
Preheat iron to "High/Cotton" setting. No steam! Cover with thin cloth. Iron for 25 seconds using constant pressure and a slow twisting motion. Repeat on reverse side of fabric.

Celebrate our 2014 GTD Championship with the Z4 GTD race car. The Turner Motorsport BMW Z4 GTD won 4 races, and had 6 podiums and 10 top-ten finishes in the TUDOR United SportsCar Championship. This high quality 100% cotton black t-shirt features the Turner Z4 GTD on the back and Turner logo on the front.
Get yours today, these are limited in quantity and won't last long. Choose size below.

This die-cast replica of the BMW E92 GT2 race car is more than just a detailed scale model - it features working headlights, taillights, and interior lights, and will even honk the horn when the door is opened! Push on the roof to hear the engine start, and pull back on the chassis to watch it race across your floor or work desk. Whether you decide to play with it, display it proudly, or both, this 1:32 scale model car is sure to be a very fun addition to your collection.