BMW Painted Reflectors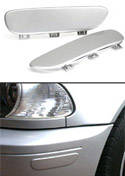 Reflectors were added to BMW models for the US market only to meet DOT visibility recommendations. They are garrish and cruel add-ons that fulfill their purpose but grossly detract from BMW's styling. The best solution would be to buy European body panels that are smooth and don't have the holes and cutouts for the reflectors. Aside from that expensive route you can buy these reflectors that are color matched to the body color. Our reflectors start out as a mold from the original BMW reflector for a precise and excellent fit. They are then painted by a professional bodyshop with the factory BMW paint code for a beautiful match. The original reflector pops out from the body and the new one snaps right in (a careful technique is still required as you're dealing with thin plastic).

For accurate results, specify your model below.