BMW Oil Pan Baffles

Keeping the oil near the oil pump is crucial for the system to work correctly. Unfortunately, some BMW models suffer from oil starvation on the track. During cornering, G forces slosh the oil away from the oil pump pickup. Cornering for long periods of time (oval bankings, for instance) can starve the engine of enough oil to lead to catastrophic failure. We offer oil pan baffles that pool enough oil around the pickup that starvation is virtually eliminated. These kits are an absolute MUST for track-driven cars and have been developed and proven over our long motorsports history.

For accurate results, specify your model below.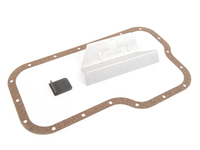 A MUST for every E30 M3! This is the first and most important modification you should make! During hard cornering/long sweeping corners the engine oil moves up the sides of the oil pan causing oil starvation! Oil starvation is a very common cause of engine failure in E30 M3's without a baffle. Our easy to install oil pan baffle kit keeps the oil near the pick-up and therefore reduces oil starvation. Our baffle along with the engine oil filled up 1 pint above the top mark on the dipstick with a quality synthetic oil will help insure a long lasting M3 motor. This baffle is a one piece unit, not a modified, welded stock baffle. No core charge! Includes detailed instructions. Lower oil pan gasket included. Installs in about 1 hour.

Part #: TEN3031B30-Group
In Stock

Free Shipping
on orders $199 and up
Through experimentation and data acquired from our E36 World Challenge Touring Cars, it was discovered that in long corners and under heavy braking that there was an oil starvation problem in the M50 and M52 engines. This system was developed to keep oil in the sump and eliminate the starvation problem. After several iterations, further testing and data acquisition in the Touring Cars showed that this system eliminates the problem of oil starvation. This is a less expensive alternative to replacing the stock oil pan with the factory BMW M3 Lightweight oil pan, while still achieving the similar results.
*Requires Professional Welding
Installation instructions (E36/Z3 Oil Pan Baffle for M50, M52, S50, S52 engines)
This item fits the following BMWs:
1992-1999 E36 BMW 323is 323ic 325i 325is 325ic 328i 328is 328ic M3
1992-1995 E34 BMW 525i
1997-1998 E39 BMW 528i
1997-1998 Z3 BMW Z3 2.8
1998-2000 Z3 BMW Z3 M Coupe M Roadster S52

Part #: TMS338997
In Stock

Free Shipping
on orders $199 and up


This dry sump oil kit is designed specifically for race applications of the S65 V8 engine, in particular in the E9X M3. This is the kit that we used on our Grand-Am E92 M3s. Dry sumping the engine delivers the most consistent and reliable oil pressure possible (a must for
any
track-driven M3, not just professional sprint and enduro racing). The dry sump system was one of the first upgrades we made to the S65 when we took it racing. Not only can oil fall away from the oil pump pickup, but vibrations can lead to failure of the pump itself. This dry sump kit is the best solution. It also reduces a large a amount of parasitic power loss thanks to the extremely high efficiency of the Dailey pump. With this kit you will never have to worry about a loss of oil pressure from a failure of the stock street parts. As this was originally developed for professional motorsports, no expense was spared in the development or production of this dry sump kit.
This is a complete setup, which includes all related parts to make this as much of a "bolt on" conversion as possible. Oil lines and the oil tank are still required to complete the conversion. These are not provided in the kit due to the variances with their mounting locations and sizes. Our kit now includes more parts than before but at the same price!
M3 Dry Sump Kit includes the following:
Dailey 5 Stage Dry Sump Oil Pump / Air Seperator
S65 B40 Oil Pan Assembly (CNC aluminum)
Dry Sump Pulley Kit
Dry Sump Belt
HTD Pulley
Oil pump drive gear
Hex head hat washer
S65 Dry Sump rear main seal
S65 Dry Sump front main seal
S65 Dry Sump power steering pulley kit
Alternator Pulley
S65 idler pulley
EGR Cover Mount set
PVC plug and cover
S65 thermostat tube
o-rings and gaskets
S65 oil block assembly with fittings
S65 crank pressure sensor adaptor
S65 power steering belt
S65 main drive belt
Professional installation is highly recommended. Due to the nature of racing parts of this nature, this kit is sold with no express or implied warranty.

The stock S65 connecting rod bolts are a known weakness so we recommend replacing them with new ARP rod bolts at the same time. Add them to the same order from the options below.

This item fits the following BMWs:
2008-2011 E90 BMW M3 - Sedan
2008-2013 E92 BMW M3 - Coupe
2008-2013 E93 BMW M3 - Convertible


Part #: TMS1432
Ships in 3 Days