Find Parts That Fit Your Vehicle
Fender Rollers
To fit wider wheels or spacers on lowered BMWs, fender rolling is often required. Forming the fenders can be expensive from shops that offer the service, but it is an easy job that can be done at home with our fender rolling equipment. On this page, you will find our Schwaben Fender Roller and Fender Forming Tool so you can fit the wheels and tires for the stance and look you want.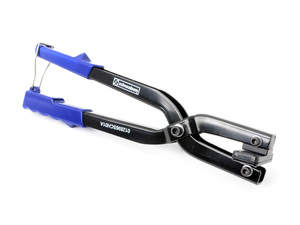 Often times when it comes to adding spacers or a more aggressive wheel fitment clearance can become an issue.
This hand tool gently flattens the lip inside of your fender to increase clearance for lowered vehicles or vehicles with wider offsets than factory. No need to remove the wheel. Use of a heat gun is required during forming to prevent wrinkles and cracked paint. Includes two spare small pads.