BMW E34 M5 Hawk HT14 Racing Brake Pads
The new Hawk HT-14 race compound is a worthy successor to the well-established Hawk Blue extreme race pad. The HT-14 is a very high torque output with a very aggressive initial bite. This is a pad intended for racecars with downforce and very high deceleration rates in races over short distances. It's a very aggressive pad for experienced drivers. For over 15 years, Hawk Performance has dominated the racetrack by providing champions with cutting-edge friction materials. Whether you are looking to improve your braking ability during the next lapping day or looking to make your move on the final lap, Hawk has you covered with a wide array of Motorsport Compound Pads.

These pads are strictly for track use ONLY! Unlike some of the pads appropriate for street driving, Hawk HT14's are not designed to perform at the low temperatures that are normally experienced in ANY street car.
For accurate results, specify your model below: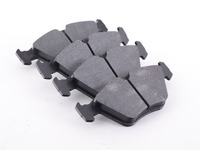 Hawk HT14 Race Brake Pads - Front - E32, E34, E36 M3, E46 M3, E39 528i, MZ3
Direct Ship