BMW X3 Pagid S Sport Brake Pads
Pagid's "S" Sport pads are a step above your typical street performance pad. These pads were originally developed as the OEM stock pad for many supercar manufacturers such as Ferrari and Bugatti. The requirements for those applications make these an ideal pad for BMW enthusiasts too! Although pricier than regular street pads the Pagid Sport pads return phenomenal performance and rave reviews. These pads are intended for heavy and aggressive street braking or mild open track lapping. We consider these to be 'dual purpose pads' that can be driven every day but also used occassionlly on the track*. Even though street use is acceptable these pads work best when they have a little bit of heat in them.

* - These can be used as a track pad, however, care must be taken not to overheat them for prolonged periods. Track conditions and driver experience levels may dictate a more serious track pad.
For accurate results, specify your model below: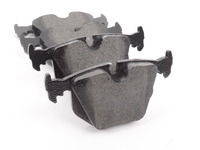 Pagid S Sport Pads - Rear - E31, E38, E39, E46, E83, E53, E60, E85, Z8

Direct Ship