Turner Custom Limited Slip Differentials - F22
A custom differential is one of the best upgrades to have done to your BMW. Not only can you get more performance but you can also get rid of the open diff in non M BMWs or M Variable limited slip diff. It's easy to forget about the rear axle when you're considering performance upgrades but changing the gearing is in the top 3 things to do to make the car faster. A custom diff is also a rebuilt unit with new seals, bearings, and limited slip unit.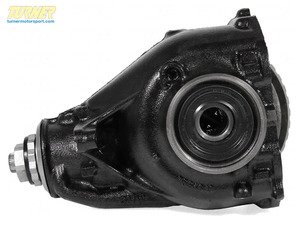 One of the best upgrades to be made is custom building a differential. There are a lot of options to make improvements to the diff including gear sizing changes, added limited slip units, and limited slip lock-up options. It's easy to overlook the differential when planning your car's upgrades but it's one of the best areas to get return from your modification spending. Using a shorter (numerically higher) gear ratio will give you better acceleration and the limited slip effect will help get that power to the pavement. Changing the limited slip lock-up will change how the car behaves in corners - low lock-up will introduce more wheel spin; a higher lock-up will give more grip to the rear wheels but may induce an understeer condition (too much power pushing the car straight); a variable lock-up will give you the optimum balance. Our experience in diff building, car prep, and racing will ensure we get you the correct custom build for your specific driving conditions.
Gearing Changes: All M235i differentials have welded internal pieces that require special machining and modification. Our diff builder has perfected the process and using a shorter ring and pinion is now no more difficult than any other car. But because of the extensive labor involved, a select number of ratios are offered at this time. Using a shorter gear ratio (numerically higher) will give you better acceleration but will reduce your top speed. The higher ratio puts you at a higher RPM point for any given speed. This puts you further up in the power band, giving you more torque to the ground. Refer to the chart below for examples on the difference.
2009 335i, 6-speed manual, 255/30-19" rear tires
(click to expand)
Gear RatioGearSpeedRPM
40 MPH in 4th
3.084th41 MPH2,000 RPM
3.464th40 MPH2,250 RPM
70 MPH Cruise
3.086th69 MPH2,500 RPM
3.466th70 MPH2,800 RPM
5th Gear Speed @ 6,000 RPM
3.085th145 MPH6,000 RPM
3.465th129 MPH6,000 RPM
Speed in 5th gear at 6,000 RPM is for theoretical and comparison purposes only. It doesn't mean that these speeds are actually reachable.
Limited Slip Options: The M235i sadly did not come with a limited slip unit. Instead, BMW used DTC (Dynamic Traction Control) to cut engine power, apply the brake(s), or a combination of both. A limited slip operates independently from either of those systems. With the LSD installed the DTC system does not engage as often. The LSD transfers torque mechanically to the opposite wheel. It will then allow some wheelspin before the traction control kicks in. If you turn off traction control you still have the torque transfer of the LSD working and then wheel spin. So you can get traction in the corner and some wheelspin out of it to facilitate rotation without engine power being cut so soon. We offer several types of limited slip units for the M235i:
traditional 2 or 3-disc LSD (40-60% fixed lock-up)
3-disc LSD with variable ramp angles (user-variable lock-up)
Quaife helical (no clutch discs)
OS Giken Superlock multi-plate LSD (0-100% lock-up)
OS Giken TractionControlDiff multi-plate LSD (0-100% lock-up) (smoother and quieter version of Superlock)
Core Charge: If we are building a diff from our own stock a refundable core charge will apply until we get your original diff back. You have a maximum of 30 days from the time you receive the diff to send it back us for a refund. Click here for more detail and explanation of the core charge.
FAQ: For a full FAQ on the custom diff process, click here.
This item fits the following BMWs:
2014+ F22 BMW M235i with manual transmission
2017+ F22 BMW M240i with manual transmission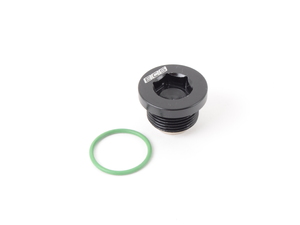 You use a magnetic drain plug for your engine oil, right? Why not apply the same proactive thinking to the differential too? This is a direct replacement magnetic differential drain plug for your BMW. It will catch and retain fine and larger metal particles in your diff oil. If you're proactive in your diff oil servicing, you will catch a minor issue long before it becomes a headache. Diff drain plug includes one sealing o-ring. Direct replacement for Genuine BMW part number(s): 33117525064, 33110308370, 33110152626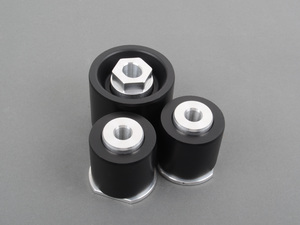 TMS E90/E92/E82 (NON M) solid differential mounts are designed around current Grand Am Cup regulations, derived from, and currently used in TMS racecars. Thick Delrin casings are used as the non-metallic solid bushing. Replacing your differentials rubber mounts with this kit will result in a snappier feel when cornering and better suspension performance. You save money by never having to replace the stock rubber mounts that fail due to old age and fatigue. These bushings are CNC machined in the USA and made with high-grade materials.

These solid differential bushings/mounts fit the following BMWs:
2008-2012 E82 BMW 128i 135i
2014+ F22 BMW 228i 228iX M235i M235iX
2006-2011 E90 BMW 325i 325xi 328i 328xi 328i xDrive 330i 330xi 335d 335i 335xi 335i xDrive - Sedan
2006-2012 E91 BMW 325xi 328i 328xi 328i xDrive - Wagon
2007-2013 E92 BMW 328i 328xi 328i xDrive 335i 335is 335xi 335i xDrive - Coupe
2007-2013 E93 BMW 328i 335i - Convertible
2012+ F30 BMW 320i 320iX 328i 328iX 335i 335iX - Sedan
2012+ F31 BMW 328i 328iX - Wagon
2014+ F34 BMW 328i 328iX 335iX - Gran Turismo
2014+ F32 BMW 428i 428iX 435i 435iX - Coupe
2014+ F33 BMW 428i 428iX 435i 435iX - Convertible

---