E39 525i/528i/540i Wagon with Self Leveling KW Coilover Kit - Variant 1 (V1)
Factory Pre-set Damping

The Variant 1 is KW's basic simple and effective coil over kit that is still packed with lots of features -
Pre-set damping optimized for a blend of ride comfort and handling with less bodyroll than the standard suspension,
Stainless steel strut/shock bodies and composite spring perches for superior corrossion resistance,
Individually height-adjustable - Front = 35-65mm lowering; Rear = 30-60mm lowering,
TUV approved lowering range and operation,
Expert engineering and design for ease-of-use and long durability,
This is the ideal coil over kit for an E39 wagon owner who does not plan on tracking or autocrossing the car and just wants a lower, more aggressive stance and better handling. KW has set the shock damping rates to be an excellent balance for a smooth yet taut ride, and to resist bodyroll motions for better handling. The Variant 1 differs from the Street Comfort set in that it has stiffer springs and revised shock settings. If you want a sportier ride and better handling than stock the Variant 1 is an excellent choice.

Fitment Notes: This kit retains the original self-leveling rear airbag spring. It includes rear shocks and ride height sensor to lower the rear. Wheel spacers may be required depending on wheel/tire sizing and ride height setting.

This item fits the following BMWs:
1997-2003 E39 BMW 525i 528i 540i - Wagon with automatic leveling rear suspension

T#:
11566
|
Part#:
10220036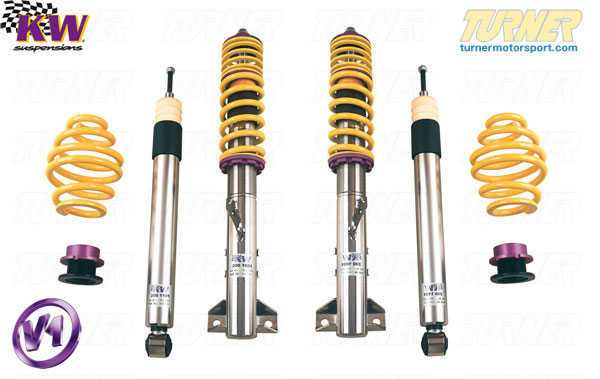 1 of Factory Pre-set Damping The Variant 1 is KW's bas...