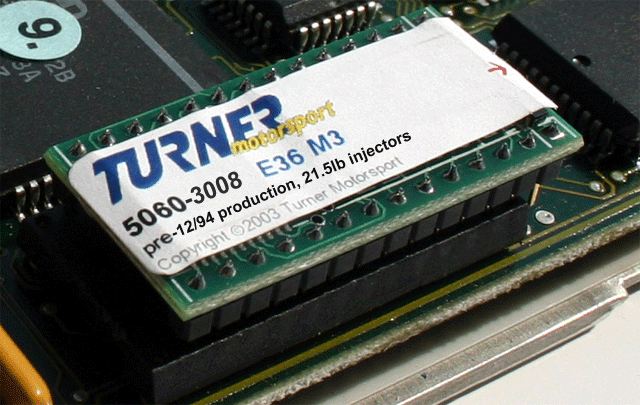 S52 OBD-I Turner Conforti Performance Chip (for 21.5lb Injectors)
Mfg Part #

M3-21LB-CHIP

Turner Part #

T#

1374

Brand
Product Details
If you have an M3 engine and want to use the 21.5 lb/hr injectors (pink top, stock on the 2.8 M52 and 3.2 S52) we have the perfect chip for you. Instead of changing to the smaller 17lb injectors or upgrading to the full 24lb, you can use the injectors from the stock 3.2 M3. They are in-between 17lb and 24lb, allowing a little more fuel to compensate for intake and/or exhaust upgrades.Perfect for running headers with an intake! There are plenty of surplus 21.5lb injectors out there (we sometimes have them too, check out Used Parts section).

It's usually not necessary to use bigger injectors but this gives you another option in your engine planning. This software covers almost all of the popular bolt-on upgrades, including the larger HFM (Euro or 540). Choose the mods/upgrades from the list below.Turner Performance Chips provide the ultimate in performance advantage! Adding a performance chip to your BMW is the easiest and most cost effective way of increasing BMW power, torque, and performance with NO DOWNSIDES. Through years of BMW performance tuning, we are able to maximize power and torque gains for 91 octane fuel used in North America. By making changes in the ignition and fuel maps of the DME we are able to optimize performance with no side effects or compromises. Other changes will make your BMW smoother and more responsive than when it left the factory. Our chips have a lifetime warranty and a 30-day satisfaction guarantee. If for any reason you are not fully satisfied with the increase in power and overall drivability you can return the chip to Turner Motorsport for a full refund. Chips are supplied with detailed instructions and are user-installed in about an hour. See below for specific information that we may need from your BMW model.

Note: we will not be offering this software for use with cams. More aggressive camshafts require the use of the Bosch 24lb injectors. The 21.5lb injectors are maxed out when used with cams.

Additional Options:

EWS-delete: required when using the silver 413 ECU in a car that does not have EWS (all chassis manufactured before 12/94). If you will be using this chip in an EWS car (1/95-later) you do not need EWS-delete as nothing EWS related should be changing.

Speed sensor delete: for an E30 with an M50 engine conversion, the signal from speed sensor does not make it to the DME, causing a low rev limit. We remove the need for the speed sensor signal to reach the DME.
This S52 OBD-I Performance Chip applies to the following BMWs:
Any S52 engine converted to OBD-I electronics
1985-1992 E30 S52 conversion
1989-1994 E34 S52 conversion
1995* E34 S52 conversion
1992-1994 E36 S52 conversion
1995-1999* E36 S52 conversion
* - 1995-1999 model years may have EWS-II activated. Pay special attention to production dates and ECU numbers.

Kit Contents
others bought
recently viewed