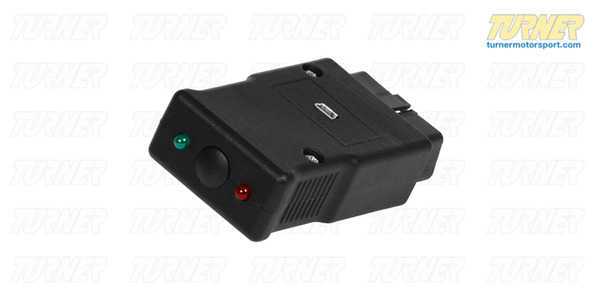 MZ3 (S54) Shark Injector Performance Software
Mfg Part #

TMS1528

Turner Part #

T#

1528

Brand
Price:
296.65
$349.00
(Sale - Save 15%)
Free Shipping
Product Details
Horsepower and torque gains
Faster and smoother throttle response
Top speed limiter removed
Optional convenience features
Extremely easy to install/uninstall
Reversible and reusable
Performance software is a must-have upgrade on your MZ3 and you won't find an easier and better software solution than the Shark Injector. Developed by BMW tuning expert Jim Conforti, this device plugs into the car's diagnostic port and flashes new performance files into your car's engine computer (ECU). There's no removal of the ECU and shipping, no cables, no laptop required - only a battery charger! Installation takes just a few minutes and your engine will perform like never before!
The MZ3 performance software was developed on the dyno to create maximum power and torque using premium 91+ octane fuel and revising the torque limiters in the ECU. The software makes changes to the ECU's maps and algorithms for fuel injection, ignition timing, VANOS and camshaft movement, and transitional fueling. We modify the maps for part throttle and full throttle so you get better response and more torque at all RPM. Choose between a stock or raised 8,100 RPM rev limit. The top speed limiter is removed. By fine tuning these maps we've been able to improve the S54 engine beyond what BMW did by making more power and torque and a smoother-running engine.
The Shark Injector plugs into the diagnostic port inside the Z3 cabin. With the battery charger supplying power, press the Upgrade button and within minutes the ECU is reflashed with the new performance tune. No other software product on the market comes close to how easy it is to install. You can use the Restore button to re-install the stock BMW software at any time. Detailed instructions are included. Other tuners require you to remove the ECU and ship it to them or use a laptop to read and write a new file. The Shark Injector is ready to install right out of the box! A planned future upgrade will allow you to use the USB port to load different performance files.
MZ3 Dyno
Power and Torque Gains
Stock: 253.2 rear wheel Horsepower, 223.1 rear wheel Torque
Sharked: 266.1 rear wheel Horsepower, 229.8 rear wheel Torque
Peak Gain 12.9 HP and 6.7 Torque @ the wheels.
A Max gain of 14.0 lb/ft rear wheel torque @ 4340 rpm
Product Options:
(click to expand)
​Product Options:
Octane. Choose either 91 or 93 minimum octane. For 93 we can be more aggressive with the timing and get more power. But you must have 93+ octane available, using the 93 version with anything less is not recommended.
Rev Limit. Choose a stock 7,600 RPM or raised 8,100 RPM rev limit. The raised rev limit is great for track or autocross where you can stay in gear longer and avoid untimely upshifts. The stock rev limit is for the non-track customer who wants all of the other benefits without the need to rev beyond the stock setting.
DSC/Sport Mode. This is a great option for MZ3 owners since the car did not come with a Sport button. Turning DSC off will enable the hidden Sport Mode in the MZ3!
Note: not all combinations of product options are available. We will contact you if there is a conflict.
Read what others are saying!
(click to expand)
LAWLence: "Go with the Conforti software. It will use a throttle position map similar to the sport mode, but the throttle response is linear and instant like it should've been from the factory. The throttle is mapped exactly like the stock sport mode, but power delivery is MUCH smoother and linear."
930LDR: "I am quite pleased with the upgrade. Very noticable pick up in throttle response. Can feel a little pick up in power as you move the the RPM range as well. Well worth $300."
fmcfad01: "The Injector will give you much improved throttle response. I recommend it."
clintjg: "The shark is worth it. I explored every NA bolt on available for the S54 and the shark plus headers was the biggest bang for the HP buck."
atan888: "Just installed mine today and boy it made my S54 feel like a real S54. What a difference in response and you can really feel the extra HP. With my mod list growing in my sig it's the best bang for the buck mod I ever got for my coupe."
Shark Injector Instructions
(click to expand)
Click here for Shark Injector installation instructions
A capable battery charger is required for the installation. The charger provides backup power supply to the regular car battery during installation. It must be capable of holding a continuous 10amp charge for the full installation (15-20 minutes).
The minimum octane fuel for this software is either 91 or 93.
Shark Injector FAQ
(click to expand)

This item fits the following BMWs:
2001-2002 Z3 BMW Z3 M Roadster M Coupe (US model only)
Kit Contents
others bought
recently viewed