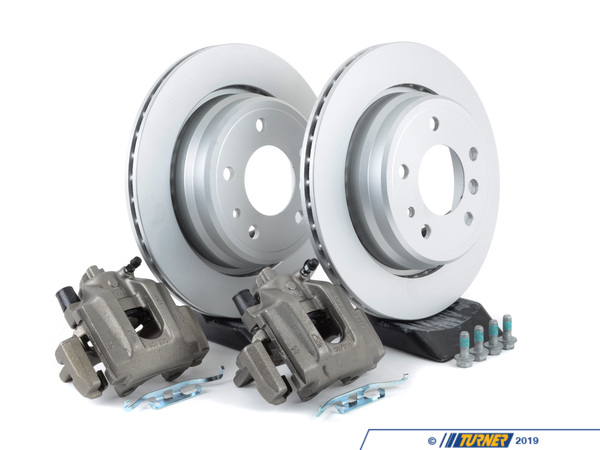 E34 540i Vented Rear Rotor and Caliper Upgrade for E28, E24
Mfg Part #

TMS180859

Turner Part #

T#

180859

Brand

Packaged by Turner
Product Details
This package is used to maintain or change the brake balance on the E28 and E24 chassis when using
the 315mm M5 front rotor upgrade.
Without the larger rear rotors your car may have more front brake bias than desired. Too much front bias will lead to easier front lockup, more wear on the front brakes, and possibly brake fade. Front bias makes the front brakes do more of the work and the rear brakes are not working as much as they could be in slowing the car down. By switching to the larger rear brakes from the E34 540i you can generate more braking force at the rear and create better overall balance. There are several other factors at play too and if you are altering the brakes on your E28 or E24 some experimentation may be required to get the balance where you like it.
This rear brake package includes:
2 x 300x20mm E34 540i/M5 vented rear brake rotors
2 x rotor retaining screws
2 x E34 540i/M5 rebuilt rear brake calipers with brackets
4 x caliper mounting bolts
All of these parts are a direct bolt-on to the E28 rear hub. All of your existing brake lines, pad sensor, and parking brake components work with the E34 parts. You don't even have to modify the brake dust shield.
Notes:
This package is only intended to be used with the E34 M5 front brakes. Using these rear E34 brakes with any other combination of front brakes will result in unknown performance.
These are rebuilt calipers intended for the E34 5-series and a core charge applies. The core charge cannot be refunded if non-E34 calipers are returned. A core exchange only works when the parts are the same. Since E28/E24 calipers will be coming back, they cannot be re-used as E34 cores. Depending on supply, some type of refund may still be available. Even if no core refund is available the cost for rebuilt calipers is still much less than the $400+ for a new BMW caliper with a bracket.
This item fits the following BMWs:
1982-1988
E28 BMW
524td 528e 533i 535i 535is M5
1983-1989
E24 BMW
633csi 635csi M6
Kit Contents
| Description | | Qty | |
| --- | --- | --- | --- |
| Genuine BMW Collar Screw, Micro-encapsul - 34203414763 | | 4 | |
| Rear Brake Rotors - E34 540i & M5 (each) | | 2 | |
| Brake Caliper - Rebuilt - Rear Left - E34 540i, M5 - E32 740i/il, 750il | | 1 | |
| - Core Charge | | 1 | |
| Brake Caliper - Rebuilt - Rear Right - E34 540i, M5 - E32 740i/il, 750il | | 1 | |
| - Core Charge | | 1 | |
| Core Return Policy Document | | 1 | |
others bought
recently viewed