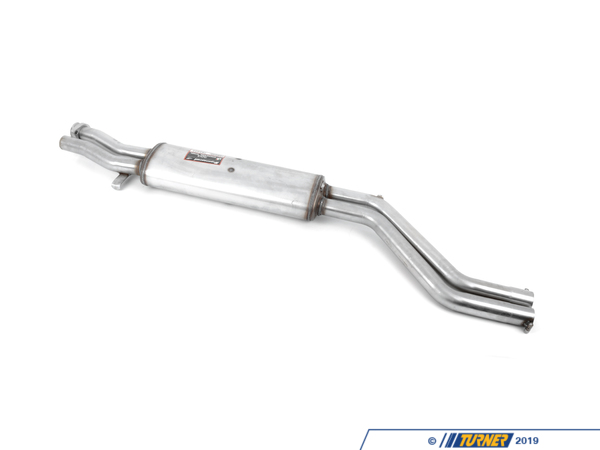 E36 325i/M3 1992-95 Supersprint Center Resonator (Stainless)
Mfg Part #

785422

Turner Part #

T#

193550

Brand
Ships on Feb 7, 2018
Free Shipping
Product Details
Free ground shipping!
The Supersprint center resonator was originally designed to replaced the stock Euro center resonator on a non-cat E36 325i. It can also be used on US M3 models as well as 325i/328i models as a cat-delete. This is a straight-flow design so overall exhaust volume will be louder, allowing more inline-6 growl to come through. This center resonator is really only designed to work with the Supersprint long-tube headers. They are a direct slip-on fit to each other. Fitting this on a car with the stock headers requires the flanges and downpipes to be cut from the stock cat section and welded to the Supersprint center resonator. Previously offered as a mild steel construction - not made in 409 stainless steel!

Supersprint exhaust is widely recognized as the leader in complete exhaust system upgrades - extremely high quality, well designed for optimal flow, and amazing sound. Even at a premium price Supersprint is an unbeatable exhaust system because every aspect is done to such a high level. A Supersprint exhaust rewards you with a terrific sound, long lasting construction and excellent fitment. The Supersprint sound is very 'European' which fits the sporting sophistication of BMWs perfectly. Most systems are also modular - sections can be added or removed to custom tailor the exhaust sound to your preferance. Aside from 'Race' systems, their mufflers meet European noise laws so you get a refined and tuned sound without being excessively loud. Most Supersprint systems are built with larger diameter piping to improve exhaust flow which helps the engine do less work and make more horsepower! Supersprint exhausts generally run at a premium over other systems but no other system on the market can match their quality, performance, or reputation!

Additional Fitment Info: this section is patterned after the factory Euro center resonator that was used on OBD-I 325i. It has one O2 sensor port ahead of the resonator like other OBD-I cat sections. To use this on a 96-99 328i/M3 you would need a complete OBD-I conversion, or install O2 bungs on the Supersprint section. However, because this is a non-cat section special software or modules will be required to keep fault codes and errors from appearing. Recommended for race or track use only.
This part alters or deletes the emissions equipment on your car. Because of this, we require a waiver of emissions compliance to be signed and sent in to TMS. You can download the waiver here.
section:center resonator
connects to:Supersprint headers, stock header when used with stock downpipes; any aftermarket muffler
material:409 stainless steel

This item fits the following BMWs:
1992-1995 E36 BMW 325i 325is 325ic M3
1996-1999 E36 BMW 323is 323ic 328i 328is 328ic M3 (race use only - no post-cat O2 sensor ports)
Previous Revisions
others bought
recently viewed