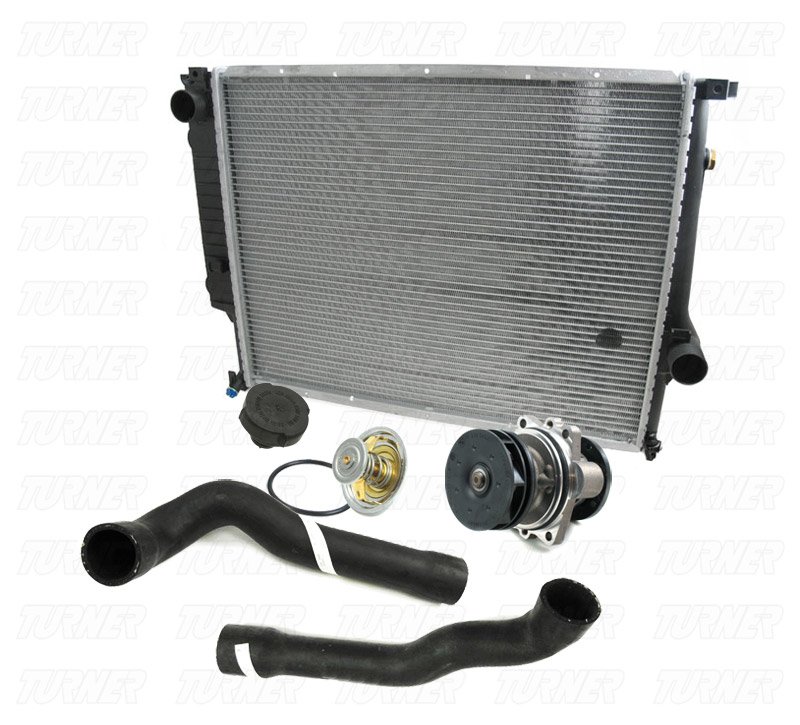 Complete Cooling System Overhaul Package - 1992-1999 E36 325i/328i/M3
Mfg Part #

TMS2003

Turner Part #

T#

2003

Note:

This product is no longer available.
Product Details
This is a compete cooling system overhaul kit, which includes all of the common E36 cooling system parts bundled into a complete package. The basic overhaul includes: water pump, radiator, radiator hoses, and thermostat. We bundled these together with a package discount for your convenience and savings. Additional items are also available to better cover your cooling system repair. Contact us if you need any other E36 cooling system parts.
The original E36's primary cooling components were prone to failure within 60k miles (or less in many cases). With better materials over the years we've seen that interval increase and you can now count on your water pump and radiator lasting at least 100,000 miles. That doesn't mean you can set aside preventaive maintenance. A failure in the cooling system can lead to overheating and catastrophic engine failure. Don't gamble your engine! By replacing these core items preventatively, such as the radiator & waterpump, you are defusing what could be a ticking cooling system time bomb. And if you've had a failure of one of these parts, now is the time to refresh your cooling system.
Top Turner Tip!
The very earliest E36s had infamous cooling system failures. But those are a thing of the past! We've got the best combination of parts to ensure a bulletproof E36 cooling system and it doesn't have to cost an arm and a leg. Our basic cooling package (OEM radiator and OE BMW water pump with composite impeller) is much better quality than what was available 20 years ago. And we can upgrade the system with full aluminum radiators, silicone hoses, and a stronger water pump. There are no more excuses for a weak E36 cooling system.
Basic Kit Contents:
17111469179, radiator (OEM Behr)
11517527799, water pump (OE BMW)
11537511580, 88°C thermostat (OEM Behr/Hella)
11531708499, upper radiator hose (OEM Rein/CRP)
11531726344, lower radiator hose (OEM Rein/CRP)
17111742231, expansion tank cap (OEM Behr/Hella)
Cooling Kit Options:
E36 Water Pump Options
(click to expand)
OE BMW with composite impeller. The original BMW water pumps had plastic impellers which degraded and failed. The latest design uses composites that are much better and will not corrode. Compared to a metal impeller, the composite is lighter so it's more efficient and it will not wear out the bearings. We don't even offer the metal impeller pumps with this kit because the BMW composite one is so much better.
Stewart high performance. The ultimate in M50 water pumps! It features a stainless steel impeller, heavy-duty bearings, a better o-ring seal, and flows 20% more than the stock pump. If indestructible is what you're looking for, this is the pump to go with. It also comes with a lifetime warranty for piece of mind.
E36 Radiators
(click to expand)
The stock radiator and fan combination has no downside in capacity. But where it lacks is in durability. The plastic tanks and hose necks are prone to cracking and then leaking. If you notice
ANY greenish-white staining on the plastic
then it's a sure sign of a crack. To avoid the plastic failures altogether, move up to a full aluminum radiator.
The MZ3 radiator has a thicker core and more capacity. Any time you can store the coolant away from the engine the better it will be. It will have less heat soak and lower overall temperatures.
The budget aluminum radiator is the same size as stock but obviously doesn't have the plastic.
The Fluidyne was designed with input from our own techs and race team. It's our go-to radiator for racing and track use.
E36 Expansion Tank
(click to expand)
The original expansion tank is prone to cracks and leakage. Again - it's made from a weak plastic. The material has improved over the years but the only option remains an OEM plastic tank. It's a good idea to replace it if you're doing a whole overhaul. Don't re-use the original tank if you're going to the trouble of replacing everything else!
E36 Thermostat Housing
(click to expand)
The original BMW plastic thermostat housing is brittle and does not seal well. We only sell it under protest. Instead we've been selling this aluminum housing for the last 20+ years. The aluminum does not have the same shortcomings as the plastic one. We made this item an option in case you already have the aluminum housing.
Use the options below to build your cooling package.
This cooling system overhaul kit fits the following BMWs:
1992-1999
E36 BMW
323is 323ic 325i 325is 325ic 328i 328is 328ic M3
Kit Contents
| Description | | Qty | |
| --- | --- | --- | --- |
| Water Pump - M50/M52 With Composite Impeller (Original BMW) | | | |
| ENGINE CONNECTION Flange 11531722531 | | | |
| Thermostat - 88 Degree - E24, E28, E30, E32, E34, E36, E39, Z3 | | | |
| E36 OEM Behr Radiator | | | |
| Thermostat Housing Gasket | | | |
| Upper Radiator Hose - E36 6 Cyl, 325/328/323/M3 | | | |
| E36 Lower Radiator Hose - 6 Cyl, 325/328/323/M3 | | | |
| Coolant Expansion Tank Cap - E36 E46 E34 E39 E32 E38 E65 X3 X5 Z4 | | | |
others bought
recently viewed