Cross-Drilled & Slotted Brake Rotors -(330x20) - Rear - F30 335i 335iX, F32 435i 435iX (Pair)
Slotting a rotor helps to release gases that build up between the rotor surface and an out-gassing brake pad. Without an escape, this thin layer of gas will cause a delay until the pad cuts through gas layer. The slots in our rotors allow the gases to escape giving better braking performance. Cross-drilling a rotor is a way to improve initial pad bite. With the additional leading edges at each hole, the pad is able to grab the rotor just a little bit harder.
By combining both Cross-drilling and slotting, these rotors combine the best of both worlds. Fewer holes mean longer pad life with little penalty in the way of initial pad bite.
These rotors feature a unique black electro-coating that is designed to prevent corrosion. Each rotor is e-coated then double-ground and balanced to ensure an even surface with no vibration. The e-coating is the best anti-corrosion protection currently available in replacement rotors. Most aftermarket rotors are not coated, allowing surface rust to form right away, which is unattractive when brakes can be seen through your wheels. br>
Replacement rear brake rotors (330x20) for the 2012+ F30 335i/335xi and F32 435i/435xi. These rotors fit the standard 335/435 brake package (not the optional M Sport upgrade or M Performance brakes).
F30 Brake FAQ Articles
F30 335i Brake Package Differences
Brake Rotor Buying Guide
Price is for a pair of rotors.
This item fits the following BMWs:
2012+ F30 BMW 335i 335iX - Sedan
2014+ F32 BMW 435i 435iX - Coupe
2014+ F33 BMW 435i 435iX - Convertible
2014+ F34 BMW 335iX - Gran Turismo
2014+ F36 BMW 428i 428iX 435i 435iX - Gran Coupe

T#:
211027
|
Part#:
34216792233CDS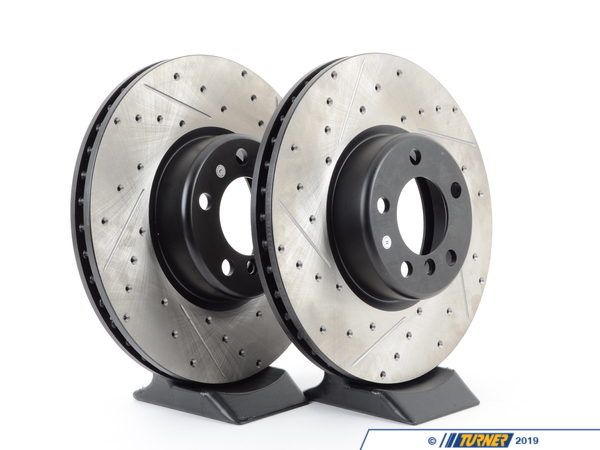 1 of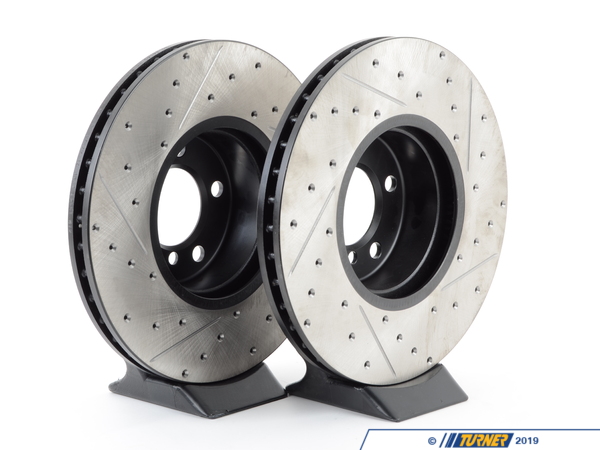 2 of
3 of
4 of
On Order, ETA Jun 26, 2019
Cross-Drilled & Slotted Brake Rotors -(330x20) - Rear - F30 335i 335iX, F32 435i 435iX (Pair)