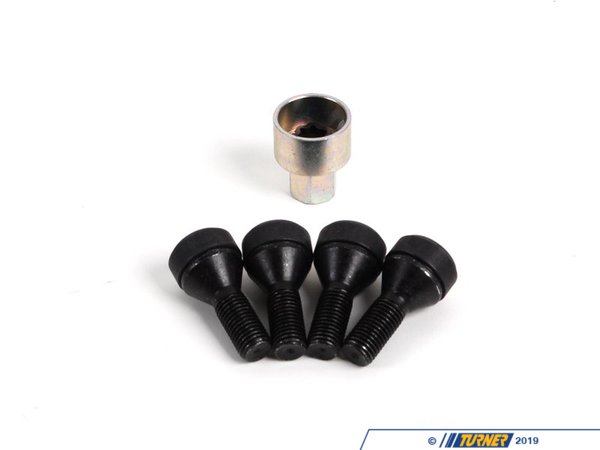 Genuine BMW Wheel Locks - Most BMWs
Mfg Part #

36136792849

36-13-6-792-849

36 13 6 792 849

Turner Part #

T#

3270

Brand
In Stock

Free Shipping
on orders $199 and up
Does this fit my vehicle?
For accurate results, specify your model below.
Product Details
Protect your valuable wheels and tires from theft with these genuine BMW wheel locks. These wheel locks feature a unique computer generated star pattern key to allow for an infinite number of key patterns.. These easy-to-use, one-piece wheel locks function like regular lug nuts but require a special key tool for installation and removal.
+
Emblem Application Specifics
(click here to check your car)
This item fits the following BMWs:
2008+ E82 BMW 128i 135i
1984-1991 E30 BMW 318i 318is 318ic 325e 325es 325i 325ic 325is 325ix M3
1992-1998 E36 BMW 318i 318is 318ti 318ic 323is 323ic 325i 325is 325ic 328i 328is 328ic M3
1999-2005 E46 BMW 323i 323ci 325i 325ci 325xi 328i 328ci 330i 330ci 330xi M3
2006+ E90 BMW 325i 325xi 328i 328xi 328i xDrive 330i 330xi 335i 335xi 335i xDrive M3
2007+ E92 BMW 328i 328xi 328i xDrive 335i 335is 335xi 335i xDrive M3
2007+ E93 BMW 328i 335i M3
1976-1981 E12 BMW 528i 530i
1982-1988 E28 BMW 524td 528e 533i 535i 535is M5
1989-1995 E34 BMW 525i 530i 535i 540i M5
1997-2003 E39 BMW 525i 528i 530i 540i M5
2004-2010 E60 BMW 525i 525xi 530i 530xi 528i 528xi 528i xDrive 535i 535xi 535i xDrive 545i 550i M5
1982-1989 E24 BMW 633csi 635csi M6
2004+ E63 BMW 645ci 650i M6
1981-1987 E23 BMW 733i 735i
1988-1994 E32 BMW 735i 735il 740i 740il 750il
1995-2001 E38 BMW 740i 740il 750il
1990-1999 E31 BMW 840i 840ci 850i 850ci 850csi
1997-2002 Z3 BMW Z3 1.9 Z3 2.3 Z3 2.5i Z3 2.8 Z3 3.0i M Roadster M Roadster
2003-2008 Z4 BMW Z4 2.5i Z4 3.0i Z4 3.0si Z4 M Roadster M Coupe
2009+ Z4 BMW Z4 sDrive30i Z4 sDrive35i Z4 sDrive35is

Previous Revisions
This Part Fits the Following BMWs
| Make | Model | Submodel | Engine |
| --- | --- | --- | --- |
| BMW | E12 | 528i | M30 2.8L |
| BMW | E12 | 530i | M30 3.0L |
| BMW | E23 | 733i | M30 3.2L |
| BMW | E23 | 735i | M30 3.4L |
| BMW | E24 | 630CSi | M30 3.0L |
| BMW | E24 | 633CSi | M30 3.2L |
| BMW | E24 | 635CSi | M30 3.4L |
| BMW | E24 | M6 | S38 3.5L |
| BMW | E28 | 524td | M21 2.4L |
| BMW | E28 | 528e | M20 2.7L |
| BMW | E28 | 533i | M30 3.2L |
| BMW | E28 | 535i | M30 3.4L |
| BMW | E28 | 535is | M30 3.4L |
| BMW | E28 | M5 | S38 3.5L |
| BMW | E30 | 318i | M10 1.8L |
| BMW | E30 | 318i | M42 1.8L |
| BMW | E30 | 318is | M42 1.8L |
| BMW | E30 | 325 | M20 2.7L |
| BMW | E30 | 325e | M20 2.7L |
| BMW | E30 | 325es | M20 2.7L |
| BMW | E30 | 325i | M20 2.5L |
| BMW | E30 | 325is | M20 2.5L |
| BMW | E30 | 325ix | M20 2.5L |
| BMW | E30 | M3 | S14 2.3L |
| BMW | E31 | 840Ci | M60 4.0L |
| BMW | E31 | 840Ci | M62 4.4L |
| BMW | E31 | 850Ci | M70 5.0L |
| BMW | E31 | 850Ci | M73 5.4L |
| BMW | E31 | 850CSi | S70 5.6L |
| BMW | E32 | 735i | M30 3.4L |
| BMW | E32 | 735iL | M30 3.4L |
| BMW | E32 | 740i | M60 4.0L |
| BMW | E32 | 740iL | M60 4.0L |
| BMW | E32 | 750iL | M70 5.0L |
| BMW | E34 | 525i | M20 2.5L |
| BMW | E34 | 525i | M50 2.5L |
| BMW | E34 | 530i | M60 3.0L |
| BMW | E34 | 535i | M30 3.4L |
| BMW | E34 | 540i | M60 4.0L |
| BMW | E34 | M5 | S38 3.5L |
| BMW | E36 | 318i | M42 1.8L |
| BMW | E36 | 318i | M44 1.9L |
| BMW | E36 | 318ic | M42 1.8L |
| BMW | E36 | 318ic | M44 1.9L |
| BMW | E36 | 318is | M42 1.8L |
| BMW | E36 | 318is | M44 1.9L |
| BMW | E36 | 318ti | M42 1.8L |
| BMW | E36 | 318ti | M44 1.9L |
| BMW | E36 | 323ic | M52 2.5L |
| BMW | E36 | 323is | M52 2.5L |
| BMW | E36 | 325i | M50 2.5L |
| BMW | E36 | 325ic | M50 2.5L |
| BMW | E36 | 325is | M50 2.5L |
| BMW | E36 | 328i | M52 2.8L |
| BMW | E36 | 328ic | M52 2.8L |
| BMW | E36 | 328is | M52 2.8L |
| BMW | E36 | M3 | S50 3.0L |
| BMW | E36 | M3 | S52 3.2L |
| BMW | E38 | 740i | M60 4.0L |
| BMW | E38 | 740i | M62 4.4L |
| BMW | E38 | 740iL | M60 4.0L |
| BMW | E38 | 740iL | M62 4.4L |
| BMW | E38 | 750iL | M73 5.4L |
| BMW | E39 | 525i | M54 2.5L |
| BMW | E39 | 528i | M52 2.8L |
| BMW | E39 | 530i | M54 3.0L |
| BMW | E39 | 540i | M62 4.4L |
| BMW | E39 | M5 | S62 5.0L |
| BMW | E46 | 323Ci | M52 2.5L |
| BMW | E46 | 323i | M52 2.5L |
| BMW | E46 | 325Ci | M54 2.5L |
| BMW | E46 | 325i | M54 2.5L |
| BMW | E46 | 325xi | M54 2.5L |
| BMW | E46 | 328Ci | M52 2.8L |
| BMW | E46 | 328i | M52 2.8L |
| BMW | E46 | 330Ci | M54 3.0L |
| BMW | E46 | 330i | M54 3.0L |
| BMW | E46 | 330xi | M54 3.0L |
| BMW | E46 | M3 | S54 3.2L |
| BMW | E52 | Z8 | S62 5.0L |
| BMW | E60 | 525i | M54 2.5L |
| BMW | E60 | 525i | N52 3.0L |
| BMW | E60 | 525xi | N52 3.0L |
| BMW | E60 | 528i | N52 3.0L |
| BMW | E60 | 528xi | N52 3.0L |
| BMW | E60 | 530i | M54 3.0L |
| BMW | E60 | 530i | N52 3.0L |
| BMW | E60 | 530xi | N52 3.0L |
| BMW | E60 | 535i | N54 3.0L |
| BMW | E60 | 535xi | N54 3.0L |
| BMW | E60 | 545i | N62 4.4L |
| BMW | E60 | 550i | N62 4.8L |
| BMW | E60 | M5 | S85 5.0L |
| BMW | E61 | 530xi | N52 3.0L |
| BMW | E61 | 535xi | N54 3.0L |
| BMW | E63 | 645Ci | N62 4.4L |
| BMW | E63 | 650i | N62 4.8L |
| BMW | E63 | M6 | S85 5.0L |
| BMW | E64 | 645Ci | N62 4.4L |
| BMW | E64 | 650i | N62 4.8L |
| BMW | E64 | M6 | S85 5.0L |
| BMW | E82 | 128i | N52 3.0L |
| BMW | E82 | 135i | N54 3.0L |
| BMW | E82 | 135i | N55 3.0L |
| BMW | E88 | 128i | N52 3.0L |
| BMW | E88 | 135i | N54 3.0L |
| BMW | E88 | 135i | N55 3.0L |
| BMW | E90 | 325i | N52 3.0L |
| BMW | E90 | 325xi | N52 3.0L |
| BMW | E90 | 328i | N52 3.0L |
| BMW | E90 | 328xi | N52 3.0L |
| BMW | E90 | 330i | N52 3.0L |
| BMW | E90 | 330xi | N52 3.0L |
| BMW | E90 | 335d | M57 3.0L |
| BMW | E90 | 335i | N54 3.0L |
| BMW | E90 | 335i | N55 3.0L |
| BMW | E90 | 335xi | N54 3.0L |
| BMW | E90 | 335xi | N55 3.0L |
| BMW | E90 | M3 | S65 4.0L |
| BMW | E91 | 325xi | N52 3.0L |
| BMW | E91 | 328i | N52 3.0L |
| BMW | E91 | 328xi | N52 3.0L |
| BMW | E92 | 328i | N52 3.0L |
| BMW | E92 | 328xi | N52 3.0L |
| BMW | E92 | 335i | N54 3.0L |
| BMW | E92 | 335i | N55 3.0L |
| BMW | E92 | 335is | N54 3.0L |
| BMW | E92 | 335xi | N54 3.0L |
| BMW | E92 | 335xi | N55 3.0L |
| BMW | E92 | M3 | S65 4.0L |
| BMW | E93 | 328i | N52 3.0L |
| BMW | E93 | 335i | N54 3.0L |
| BMW | E93 | 335i | N55 3.0L |
| BMW | E93 | 335is | N54 3.0L |
| BMW | E93 | M3 | S65 4.0L |
| BMW | Z3 | 1.9 | M44 1.9L |
| BMW | Z3 | 2.3 | M52 2.5L |
| BMW | Z3 | 2.5i | M54 2.5L |
| BMW | Z3 | 2.8 | M52 2.8L |
| BMW | Z3 | 3.0i | M54 3.0L |
| BMW | Z3 | M Coupe | S52 3.2L |
| BMW | Z3 | M Coupe | S54 3.2L |
| BMW | Z3 | M Roadster | S52 3.2L |
| BMW | Z3 | M Roadster | S54 3.2L |
| BMW | Z4 | 2.5i | M54 2.5L |
| BMW | Z4 | 3.0i | M54 3.0L |
| BMW | Z4 | 3.0i | N52 3.0L |
| BMW | Z4 | 3.0Si | N52 3.0L |
| BMW | Z4 | M Coupe | S54 3.2L |
| BMW | Z4 | M Roadster | S54 3.2L |
| BMW | Z4 | sDrive30i | N52 3.0L |
| BMW | Z4 | sDrive35i | N54 3.0L |
| BMW | Z4 | sDrive35is | N54 3.0L |
*The above product applications have been written by Turner Motorsport. All warranties, product application, fitment, and performance are the responsibility of Turner Motorsport. For additional information see the terms of use.
others bought
recently viewed