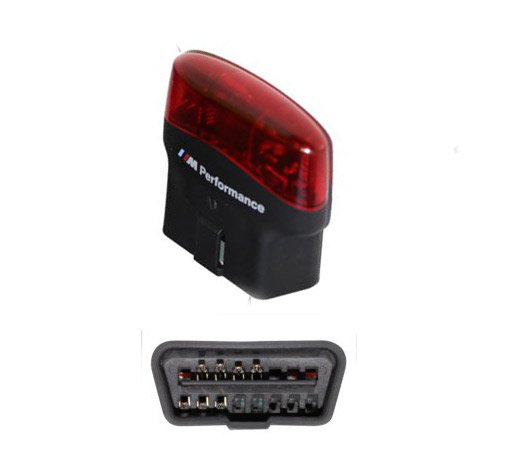 BMW M Performance Drive Analyser
Mfg Part #

61432365115X

Turner Part #

T#

339974

Brand
Ships on Apr 23, 2018
Free Shipping
Does this fit my vehicle?
For accurate results, specify your model below.
Product Details
video: M Performance Drive Analyser

M PERFORMANCE DRIVE ANALYSER.
Derived directly from motorsports, the M Performance Drive Analyser calculates all important driving dynamics data and provides you with numerous professional recording and analysis options. Results can be displayed and analysed in the form of videos and graphical representations on your smartphone. The plug and play system requires the M Performance Drive Analyser OBD stick that you connect to the OBD (on-board-diagnostics) port of your car. The OBD stick is a BMW genuine accessory product that is available at your BMW dealer. All BMW car models 2011 and later are supported.
KEY FEATURES
TrackDrive
Track- and data recording including video with professional analysis tools
PowerDrive
Shows real time engine power and torque
video:Overlay Data of the M Performance Drive Analyser

G-Drive
Shows lateral and linear acceleration with maximum value notifications
TestDrive
Precision time measurement for acceleration, distance, elasticity and brake deceleration tests
CoreDrive
Shows real time engine data
FuelDrive
Shows fuel consumption and CO2 emission including fuel cost
The M Performance Drive Analyser is designed and manufactured by INATRONIC GmbH & Co. KG for BMW AG Munich.
Important note:
The use of GPS during track recording in the background may increase battery consumption.
Only for use together with M Performance Drive Analyzer app with free download at the App Store.
Technical information
can with the M Performance Drive Analyser video data, audio data, and GPS will be recorded and played back data. In addition, among other things, the following dynamics data can be measured:
video:M Performance Drive Analyser (Android)

Speed
Engine performance
lateral acceleration
deceleration
Gear engaged
height above sea level
reaction starting times
distance races
CO2 emissions
Kraftstofferverbrauch
catalyst temperature
board voltage
ignition
inlet temperature
fuel pressure
air mass
This item fits the following BMW Chassis:
E82,E89,E90,F06,F10,F12,F13,F15,F16,F22,F25,F26,F30,F31,F32,F33,F34,F36,F80,F82,F83,


Loading Kit Configurator
Kit Configurator
Choose Device Type:
Description
Qty
IPhone / IOS (61432365115) ($399.95)

Ships on Apr 23, 2018

1
Android (61432365116) ($297.30)

Ships in 2 days

1
Image may not match selected options.
This Part Fits the Following BMWs
| Make | Model | Submodel | Engine |
| --- | --- | --- | --- |
| BMW | E82 | 1 M Coupe | N54 3.0L |
| BMW | E90 | 328xi | N52 3.0L |
| BMW | E90 | 335xi | N55 3.0L |
| BMW | F01 | 740i | N54 3.0L |
| BMW | F01 | 750i | N63 4.4L |
| BMW | F01 | 750i xDrive | N63 4.4L |
| BMW | F02 | 740Ld xDrive | N57 3.0L |
| BMW | F02 | 740Li xDrive | N55 3.0L |
| BMW | F02 | 750Li | N63 4.4L |
| BMW | F02 | 750Li xDrive | N63 4.4L |
| BMW | F02 | 760Li | N74 6.0L |
| BMW | F06 | 640i | N55 3.0L |
| BMW | F06 | 640i xDrive | N55 3.0L |
| BMW | F06 | 650i | N63 4.4L |
| BMW | F06 | 650i xDrive | N63 4.4L |
| BMW | F06 | M6 Gran Coupe | S63 4.4L |
| BMW | F07 | 535i | N55 3.0L |
| BMW | F07 | 535i xDrive | N55 3.0L |
| BMW | F07 | 550i | N63 4.4L |
| BMW | F07 | 550i xDrive | N63 4.4L |
| BMW | F10 | 528i | N20 2.0L |
| BMW | F10 | 528i xDrive | N20 2.0L |
| BMW | F10 | 535d | N57 3.0L |
| BMW | F10 | 535d xDrive | N57 3.0L |
| BMW | F10 | 535i | N55 3.0L |
| BMW | F10 | 535i xDrive | N55 3.0L |
| BMW | F10 | 550i | N63 4.4L |
| BMW | F10 | 550i xDrive | N63 4.4L |
| BMW | F10 | M5 | S63 4.4L |
| BMW | F12 | 640i | N55 3.0L |
| BMW | F12 | 640i xDrive | N55 3.0L |
| BMW | F12 | 650i | N63 4.4L |
| BMW | F12 | 650iX | N63 4.4L |
| BMW | F12 | M6 | S63 4.4L |
| BMW | F13 | 640i | N55 3.0L |
| BMW | F13 | 640i xDrive | N55 3.0L |
| BMW | F13 | 650i | N63 4.4L |
| BMW | F13 | 650iX | N63 4.4L |
| BMW | F13 | M6 | S63 4.4L |
| BMW | F15 | X5 sDrive35i | N55 3.0L |
| BMW | F15 | X5 xDrive35d | N57 3.0L |
| BMW | F15 | X5 xDrive35i | N55 3.0L |
| BMW | F15 | X5 xDrive50i | N63 4.4L |
| BMW | F16 | X6 sDrive35i | N55 3.0L |
| BMW | F16 | X6 xDrive35i | N55 3.0L |
| BMW | F16 | X6 xDrive50i | N63 4.4L |
| BMW | F22 | 228i | N20 2.0L |
| BMW | F22 | 228i xDrive | N20 2.0L |
| BMW | F22 | M235i | N55 3.0L |
| BMW | F22 | M235i xDrive | N55 3.0L |
| BMW | F23 | 228i | N20 2.0L |
| BMW | F23 | 228i xDrive | N20 2.0L |
| BMW | F23 | M235i | N55 3.0L |
| BMW | F25 | X3 sDrive28i | N20 2.0L |
| BMW | F25 | X3 xDrive28d | N47 2.0L |
| BMW | F25 | xDrive2.8i | N52 3.0L |
| BMW | F26 | X4 xDrive28i | N20 2.0L |
| BMW | F26 | X4 xDrive35i | N55 3.0L |
| BMW | F30 | 320i | N20 2.0L |
| BMW | F30 | 320i xDrive | N20 2.0L |
| BMW | F30 | 328d | N47 2.0L |
| BMW | F30 | 328d xDrive | N47 2.0L |
| BMW | F30 | 328i | N20 2.0L |
| BMW | F30 | 328i xDrive | N20 2.0L |
| BMW | F30 | 335i | N55 3.0L |
| BMW | F30 | 335i xDrive | N55 3.0L |
| BMW | F31 | 328d xDrive | N47 2.0L |
| BMW | F31 | 328i xDrive | N20 2.0L |
| BMW | F32 | 428i | N20 2.0L |
| BMW | F32 | 428i xDrive | N20 2.0L |
| BMW | F32 | 435i | N55 3.0L |
| BMW | F32 | 435i xDrive | N55 3.0L |
| BMW | F33 | 428i | N20 2.0L |
| BMW | F33 | 428i xDrive | N20 2.0L |
| BMW | F33 | 435i | N55 3.0L |
| BMW | F33 | 435i xDrive | N55 3.0L |
| BMW | F34 | 328i xDrive | N20 2.0L |
| BMW | F34 | 335i xDrive | N55 3.0L |
| BMW | F36 | 428i | N20 2.0L |
| BMW | F36 | 428i xDrive | N20 2.0L |
| BMW | F36 | 435i | N55 3.0L |
| BMW | F36 | 435i xDrive | N55 3.0L |
| BMW | F80 | M3 | S55 3.0L |
| BMW | F82 | M4 | S55 3.0L |
| BMW | F83 | M4 | S55 3.0L |
| BMW | F85 | X5 M | S63 4.4L |
| BMW | F86 | X6 M | S63 4.4L |
| BMW | Z4 | sDrive28i | N20 2.0L |
*The above product applications have been written by Turner Motorsport. All warranties, product application, fitment, and performance are the responsibility of Turner Motorsport. For additional information see the terms of use.
others bought
recently viewed