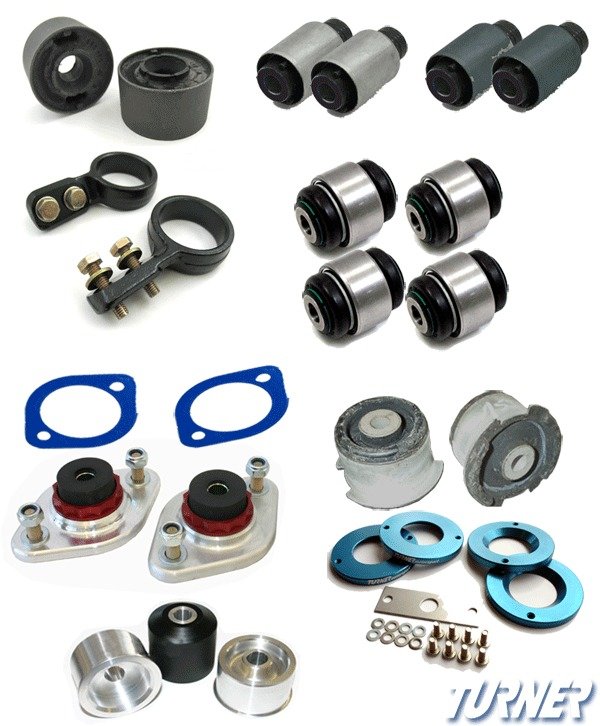 3-series Rear Suspension Mount Package - Rubber Street Bushings - E46 (not M3)
Mfg Part #

TMS340201

Turner Part #

T#

340201

Note:

This product is no longer available.
Product Details
This package is a complete overhaul of the rear suspension bushings in the E46 3-series. If your car is not feeling as crisp, has irregular tire wear, or has inconsistent (and unsafe) handling it's likely the rear bushings. We put together this package as a total overhaul to restore your car back to its original feel. Depending on the symptoms and diagnosis from your mechanic, it may be logical to replace all of the bushings in the rear suspension (there are 19 total). This is especially true if the subframe is being removed to repair or reinforce the rear floor (prone to failure).

Turner Motorsport is a big believer in using rubber bushings for street cars. Urethanes, Delrin, or aluminum are generally good for reducing compliance and limiting deflection - attributes that don't really work well on roads filled with potholes, railroad crossings, cracks, and expansion joints. The rubber bushings maintain the factory ride/handling traits that won the 3-series praise all over the world. Every bushing will need maintenance or replacement at some point and rubber has proven to last the longest and need less maintenance than anything else, even urethane. And unless competitive driving is your goal, the harder materials are only a gimmick.

Any major overhaul of the rear suspension should include new subframe mounts. The worn rubber mounts contribute to rear subframe-floor failure when the deflection in the mount is transferred to the chassis. Choose any of the other mounts and bushings you would like to replace at the same time, while the subframe is out of the car. The total package price will be displayed when you select 'show customized price'.

Individual Item Descriptions:
Trailing Arm Bushings and Limiters (33 32 2 228 153 and TSU9990001) - our OEM rubber replacement trailing arm bushings (RTABs) are a perfect fit and help maintain rear toe alignment. The Limiters prevent premature bushing wear.
Rear Inner Control Arm Bushings (upper 33 32 1 092 247 and lower 33 32 6 770 824) - new stock inner rubber bushings for the upper spring arm and the lower camber arm. These do not wear out very quickly but should be replaced as a 'While you're in there...' job.
Rear Outer Control Arm Bushings (upper and lower) (33 32 6 775 551) - outer ball joints for the upper spring arm and the lower camber arm. These are the standard ball joint design found on the M3 and are a direct replacement upgrade on the other E46 models.
Rear Shock Mounts (JTD909) - Our very best JT Designs rear shock mounts with gaskets and hardware. If your mounts have not been replaced in the last 40,000 miles, now is the perfect time. Skip this option if you recently replaced mounts or already have an upgraded mount.
Rear Shock Mount Reinforcements (TSU9975100) - Even if your shock mounts are new or recent, the sheetmetal of the rear shock tower can still fatigue, leaving you with a very dangerous and expensive fix. These reinforcements are extra-thick, providing crucial strength to one of the weakest points on the car. They work with nearly every shock mount.
Differential mounts (33 17 1 093 175MY and 33 17 6 751 808MY) - Now is a great time to replace the rubber-isolated differential mounts. The diff mounts take the bulk of the twisting and binding as power is transmitted through the differential. We use a Meyle HD rubber bushing for the rear mount as it's stronger than the factory part.
Rear subframe mounts (33 31 6 770 783, 33 31 6 770 784, and 33 31 6 770 781 x 2) - The heart of the rear suspension, the subframe (or carrier) mounts located the entire rear suspension to the car. There are four mounts in total and bolt up into the rear floor. Worn subframe mounts are one of the leading contributors to rear floor-subframe failure. As the mounts flex, so does the sheetmetal of the chassis, which will fatigue the sheetmetal and crack the spot welds. Therefore, replacement of the subframe mounts is critical and a must when doing the subframe reinforcement or repair.

This item fits the following BMWs:
1999-2005 E46 BMW 323i 323ci 325i 325ci 325xi 328i 328ci 330i 330ci 330xi

Kit Configurator
Configure Your Mount Package Here:
Description
OEM Lemforder Rear Outer Upper or Lower Trailing Arm Ball Joint - E36, E46, X3, Z4 ($29.95)
OEM Lemforder Rear Control/Camber Arm Lower Inner Bushing - E36/E46/X3/Z4 ($10.95)
OEM Lemforder Rear Trailing Arm Bushing - E36 E46 E83 X3 ($12.95)
OEM Lemforder Rear Control Arm Upper Inner Bushing - E36/E46/X3/Z4 ($11.49)
Rear Differential Mount - E46, E83 X3, E85 Z4 ($33.95)
E36, E46 Rear Shock Tower Mount Reinforcement Kit ($31.95)
Front Differential Mount - E46, E83 X3, E85 Z4 ($20.95)
Turner Motorsport Rear Trailing Arm Bushing Limiter Kit (RTAB Shim Kit) ($89.95)
Rear Shock Mounts (RSM) - HP Aluminum/Rubber - E30, E36, E46, Z3, Z4 (Pair) ($99.95)
E46 non-M OEM/HD Rear Subframe Mount Set ($92.51)
Image may not match selected options.
others bought
recently viewed