E85/E86 Z4 M Differential Upgrade - Custom Options
A custom differential is one of the best upgrades to have done to your Z4 M. Not only can you get more performance but you can also address the weak points in the M Variable limited slip diff. It's easy to forget about the rear axle when you're considering performance upgrades but changing the gearing is in the top 3 things to do to make the car faster. A custom diff is also a rebuilt unit with new seals, bearings, and limited slip unit.
Gearing The MZ4 diff comes with a relatively short 3.62 gear ratio. They could use a shorter gear because the engine redline is so high - the car has a long power band and the gear spacing allows you to stay well within that range. But there's always more acceleration to be had with a shorter gear set. BMW Motorsport supplies 3.91 or 4.10 options and there are other gear ratios to select in our custom builds. Your speed vs RPM obviously changes with a different gear set. Use the chart below for examples of the differences.
Example: 2008 Z4 M, 6-speed manual, 255/40-18" rear tires(click to expand) Gear Ratio Gear Speed RPM
40 MPH in 4th3.62 4th 39 MPH 2,250 RPM3.91 4th 40 MPH 2,500 RPM4.10 4th 40 MPH 2,625 RPM70 MPH Cruise3.62 6th 69 MPH 2,750 RPM3.91 6th 70 MPH 3,000 RPM4.10 6th 70 MPH 3,150 RPM5th Gear Speed at Redline3.62 5th 171 MPH 8,000 RPM3.91 5th 158 MPH 8,000 RPM4.10 5th 151 MPH 8,000 RPMWhy 5th? Because 6th does not have the mechanical advantage to get past wind resistance at these speeds - it is more of a cruise/overdrive gear. Using 5th for comparison purposes is much more relevant than having to take into account wind direction, resistance, grade, elevation, tire sizing, etc. These numbers are for comparisons among gear ratios only, not to determine what your M Coupe will top out at.
Limited Slip Options The M Variable locking differential is genius when it's working properly. Unfortunately, as many M3/M5/M6/Z4M owners have come to find, the system only has a service life of 80,000 miles (sometimes less) and then the viscous unit inside starts to fail (is your's clunking?). We can rebuild the internals and bring it back to a perfectly-functioning viscous M Variable unit. Or you may choose to lose the variable lock in favor of a traditional clutch-type or helical diff with a set locking. We also build diffs with Quiafe, Kaaz, and OS Giken (favorite of the Turner racing team) limited slip units.
Core Charge. If we are building a diff from our own stock a refundable core charge will apply until we get your original diff back. You have a maximum of 30 days from the time you receive the diff to send it back us for a refund.
Click here for more detail and explanation of the core charge.
FAQ:
For a full FAQ on the custom diff process, click here.
This item fits the following BMWs:
2006-2008 E85 E86 BMW Z4 M Roadster M Coupe

Diffs by Turner
T#:
340225
|
Part#:
TMS21531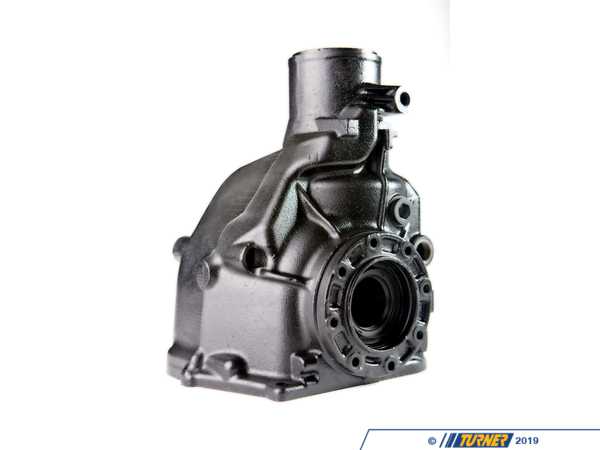 1 of