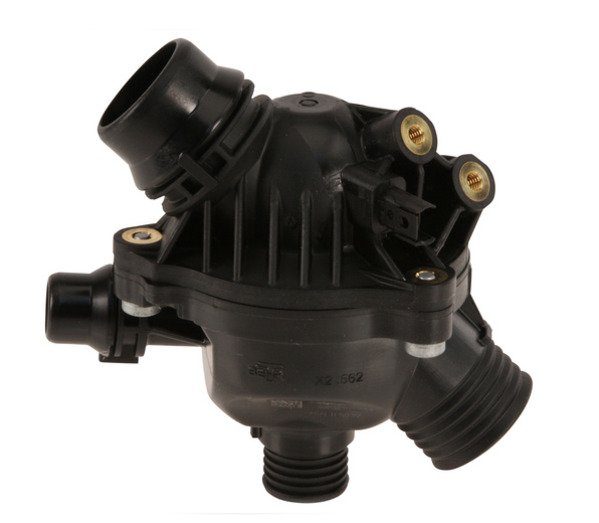 E82 135i, E9X 335i 6MT Cooling Overhaul Package
Mfg Part #

TMS214374

Turner Part #

T#

340262

Brand

Packaged by Turner
Does this fit my vehicle?
For accurate results, specify your model below.
Product Details
This cooling overhaul will cover just about everything you could replace on the 135/335's cooling system. We start with the basic water pump and thermostat bundle. These are already vital to the health and durability of the N54 135/335. But to properly maintain these cars for the long term, the rest of the cooling system must be refreshed and preventatively replaced. Here you can add a radiator, expansion tank, all of the 135/335 cooling hoses, and the BMW antifreeze. This package fits 135/335 with N54 engine and manual transmission.
The sophisticated electronics of the ECU and water pump means catastrophic overheating should be a thing of the past. But the downside is that the electronics can shut down without any warning or symptoms. And troubleshooting is equally frustrating since the water pump electronics are not readable or serviceable. There are several clues to a faulty thermostat or water pump - the fan runs at full speed all the time (even immediately on a cold start), pending (soft) fault code for low coolant flow, or the water pump can be heard running constantly. But when the pump fails it's an immediate shut down of the engine which can be a major inconvenience and lead to additional repairs that might have been avoided with preventative maintance. We recommend a full cooling system overhaul on the E90/E92 every 80-90,000 miles and to check for soft/pending codes at every
5,000 mile service
.
Base Cooling Overhaul Package - Water Pump and Thermostat
(click to expand)
Includes:
+ Genuine BMW electric water pump, p/n 11517588885 or 11517632426
+ mounting screws for water pump (set of 3), p/n 11517602123
+ OEM Behr thermostat, p/n 11537549476
+ Original BMW connecting hose from thermostat to water pump, p/n 11537545665
+ OEM-style hose clamps for hose (x 2)

The water pump on the N54 engine has more cooling responsibilities than ever before. Not only must it provide cooling for the engine, but it's also pumping fluid used to cool the turbocharger oil and automatic transmission oil. The good news is that the pump only works when, and only as much, as it needs to. That means the system can actually stop the pump when it doesn't need to be running. The bad news is that it's now an electrical part, so a failure is usually immediate and with no warning. The preventative replacement is your only insurance from a very inconvenient and costly breakdown in the future. Plus you get the very latest BMW water pump design with any improvements they've made since your original pump was installed.
Radiator Options
(click to expand)
We offer two radiators for the N54 135i/335i (manual transmission): OEM Behr or racing PWR. The OEM radiator is the best option for daily and regular driving and provides enough capacity and performance for stock to mildly tuned 135/335s. It will perform just like your original radiator did for tens of thousands of miles (Behr is the original supplier to BMW). The only real downside is that it's a bit small for cars making more boost. For a radically tuned 135/335 or one that sees a lot of track use then a bulletproof aluminum radiator is your best option, and they don't come any better than PWR. The 135/335's ECU programming will reduce or shut down boost when coolant temps get too hot. So reducing heat soak of the fluid is one step in having a cooler-running engine and more consistent boost. The PWR aluminum radiator is thicker than the original which has more cooling surface area and more capacity (the coolant spends more time away from the super hot engine). Some minor trimming of the plastic fan shroud is required but otherwise it's a direct fit. PWR supplys Formula One, WRC, and NASCAR teams so their quality is second to none.
Cooling Hoses
(click to expand)
With regular driving the hoses should last a very long time. Even the plastic connectors seem to be holding up well. But as a preventative measure new hoses are recommended. We have also seen issues with re-using hoses as the spring connectors get weak over time and may not have the strength to hold the hose in place. They seem to have a tough time holding tension especially when they have been removed and reinstalled. In the interests of a thorough overhaul we recommend replacing these 335 water hoses during this job (see diagram):
17127540127, upper radiator hose (A)
17127564480, lower radiator hose (B)
11537541992, thermostat to cylinder head (includes new o-ring) ©
11537558522, water pump to engine €
11537545302, gasket for #522 hose
There are other hoses too but they are not often replaced during a radiator swap (radiator vent hose and heater core hose) and they don't see much wear. We offer these as well if you want a complete set (see Additional Items at the bottom of the page).
Expansion Tank Options
(click to expand)
The expansion tank on the 135/335 is not prone to failures (unlike previous 3-series cars) so a new one is not strictly required. There aren't many seams or stress points for it to crack and we haven't heard of too many issues. But we wanted to offer it as part of a complete overhaul in case you want to cover everything. Simiarly, the level sensor is not required unless you're getting erroneous 'low coolant' warnings from the dash/iDrive. We do strongly recommend replacing the cap because that is designed to be the weak point in the system. The cap is what regulates the pressure inside the system and it should be replaced every few years anyway.
BUY AS A PACKAGE AND SAVE $$!
This water pump package fits the following BMWs with the N54 engine:
2008-2010
E82 BMW
135i
2011-2011
E82 BMW
1M Coupe
2007-2010
E90 BMW
335i 335xi 335i xDrive - Sedan
2007-2010
E92 BMW
335i 335is 335xi 335i xDrive - Coupe
2007-2010
E93 BMW
335i - Convertible
Click on the options for your kit below and then click "update price" for your kit total.
Loading Kit Configurator
Kit Configurator
Add a gallon of Original BMW antifreeze/coolant?
Description
Qty

No, Do Not Include Coolant At This Time.

Yes, Include One Gallon Of BMW Coolant(82141467704) ($20.89)

In Stock

1
Select a radiator
Description
Qty
OEM Behr(#17117558480) ($152.95)

In Stock

1
PWR Aluminum(#PWR5970) ($977.95)

Ships on Apr 12, 2018

1
Water pump and thermostat kit
Description
Qty
Water Pump And Thermostat Kit(#N54-WATER-PUMP-THERMOSTAT) ($513.90)

In Stock

1
Add hoses to your package here:
Description
Genuine BMW Water Hose - 11537541992 ($66.54)
Ships in 5 days
Genuine BMW Gasket - 11537545302 - E71,E82,E89,E90,E92,E93,F01 ($15.59)
In Stock
Genuine BMW Engine Inlet Pipe 11537558522 ($107.78)
Ships in 5 days
Upper Radiator Hose - E90 E92 E82 E89 X1 ($60.46)
In Stock
Lower Radiator Hose ($38.95)
Ships on Apr 23, 2018
Select any new expansion tank parts:
Description
Coolant/Washer Level Sensor (installs in expansion tank) - Many BMW (see list) ($15.37)
In Stock
Power Steering Return Hose ($71.24)
Ships in 2 Days
Febi Coolant Expansion Tank Cap - E90 E92 F30 F32 F10 F12 F06 ($10.42)
In Stock
Image may not match selected options.
This Part Fits the Following BMWs
| Make | Model | Submodel | Engine |
| --- | --- | --- | --- |
| BMW | E82 | 1 M Coupe | N54 3.0L |
| BMW | E82 | 135i | N54 3.0L |
| BMW | E82 | 135i | N55 3.0L |
| BMW | E88 | 135i | N54 3.0L |
| BMW | E88 | 135i | N55 3.0L |
| BMW | E90 | 335i | N54 3.0L |
| BMW | E90 | 335i | N55 3.0L |
| BMW | E90 | 335xi | N54 3.0L |
| BMW | E90 | 335xi | N55 3.0L |
| BMW | E92 | 335i | N54 3.0L |
| BMW | E92 | 335i | N55 3.0L |
| BMW | E92 | 335is | N54 3.0L |
| BMW | E92 | 335xi | N54 3.0L |
| BMW | E92 | 335xi | N55 3.0L |
| BMW | E93 | 335i | N54 3.0L |
| BMW | E93 | 335i | N55 3.0L |
| BMW | E93 | 335is | N54 3.0L |
*The above product applications have been written by Turner Motorsport. All warranties, product application, fitment, and performance are the responsibility of Turner Motorsport. For additional information see the terms of use.
others bought
recently viewed