E9X M3 Turner Test Pipes and Software Bundle
For a performance upgrade on your E90/E92 M3 there is nothing better than the cat-delete with specialized software. This combination produces gains up to 40whp and 30wft-lbs - massive gains on an already impressive engine!

Our Race software has been fine-tuned over the years beginning with our IMSA/CTSCC E92 M3 racecars (2011 GS class champions). We modify over 40 different maps in the ECU for such things as fuel and timing maps at part throttle and full throttle, revised torque settings, knock control, VANOS and cam timing, pedal input, top speed limiter, and rev limiters. Additional tuning has been done for the cat delete - prevent limp mode and check engine lights, fault codes for cat delete, and turning off the secondary air pump (to satisfy race series regulations). Turning off the secondary air pump also disables the cold start sequence so your idle and warm-up will be smoother and quieter. A built-in cold start rev limiter safeguards the engine internals until the oil warms up. Not only is there a lot more power at all RPM but the engine is more responsive and smoother!

Our M3 Test Pipes were designed specifically for race/track use and offer a cost-effective means of removing the very restrictive primary cats. On our Turner M3 and BMW Motorsport M3 GT4 racecars the primary cats and restrictive piping is eliminated. Our M3 cat delete pipes were the first on the market and have proven again and again to make big power on their own or especially when paired with our Stage 2 performance software. Our Test Pipes are Made in the USA with strict production tolerances and quality control. We manufacture our pipes with high quality, mandrel-bent stainless steel pipes and laser-cut flanges for an optimum fitment. New gaskets are included. The factory secondary cats remain in place. Your original O2 sensors plug into the Turner Test Pipes.

Our software is installed via the Turner flashing OBD tool. This tool plugs into the OBD socket in the dash and the performance software is installed from a laptop computer connected to the tool. It also works as a fault code scanner to read and reset diagnostic trouble codes and reset adaptations. The software program requires a Windows XP/Vista/7/8/10 laptop and the installation and setup are very easy (click here for instructions). The OBD tool, cable, and files are shipped to you with simple setup instructions. There is no need to remove your ECU and ship it. You can have your M3 flashed in under an hour from the convenience of your garage or driveway!
Turner Race Software Options:
Minimum Octane
You can choose between 91 or 93. We have developed tuning for the standard 'high octane' premium fuel found around the country (91 is the maximum available in some areas). Our power and torque gains are advertised with 91. If using 93 we can alter the knock sensor logic to extract more power with the higher grade fuel. Additional race fuel maps are also available, contact us for details.
Rev Limit
On 6-speed manual cars we can set a higher engine rev limit. 8,300 is stock; 8,400 is what was used on the GTS model in Europe; 8,600 is the safest raised rev limit that we have used in our race cars. To make things simple we offer it as either stock 8,300 or raised to 8,600. On DCT cars the higher rev limits are for M shift modes only (manual/paddle shift). The higher revs do not work in full auto D modes. Work is continuing on higher limits for D mode.
Launch Control
Our software can also enable a Launch Control feature. To use it, activate M Dynamic Mode, engage first gear, hold the throttle to the floor (it will only rev to 3,500 RPM), and dump the clutch. Keep your foot to the floor and hang on! You don't have to modulate the clutch and throttle - the engine and DSC modules will handle the launch. We experimented with different launch points and found that 3,500 RPM offers a great combination of tire hook-up and torque output. This is available on manual transmission cars only (DCT has their own built-in launch control).
M Dynamic Mode Steering
We can set the M Dynamic Mode (MDM) steering effort as the standard steering. The MDM steering is heavier and requires more effort when driving at higher speeds. Some owners feel that the standard steering is too light and over-boosted and the MDM steering is a nice change. This does not affect the steering effort, or the other features, of MDM.
240E Update
Our performance and race software is built around a specific version of stock BMW software (version 240E). It was released towards the end of M3 production and includes a number of significant changes over older versions for drivability and torque managment. 240E was such a big step forward that it's considered an upgrade all on its own. No worry if you don't have 240E - we will provide you with a free update before the Turner performance software is installed.

In 2015 BMW released a 241E update. There are minor changes to the software code but the tuning maps and data are all the same as the 240E version so there is no need to update to 241E. If the dealer offers it we recommend that you decline. If you're already on 240E there is no reason to switch to 241E (the tuning maps are the same).
***This part alters or deletes the emissions equipment on your car. Because of this, we require a waiver of emissions compliance to be signed and sent in to TMS. You can download the waiver here.***

Click here for E92 M3 Test Pipe installation instructions.

This package fits the following BMWs:
2008-2011 E90 BMW M3 - Sedan
2008-2013 E92 BMW M3 - Coupe
2008-2013 E93 BMW M3 - Convertible

Turner Motorsport
T#:
340284
|
Part#:
TMS224294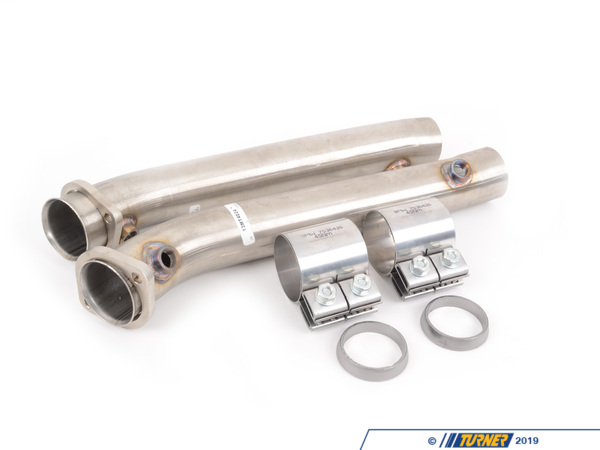 1 of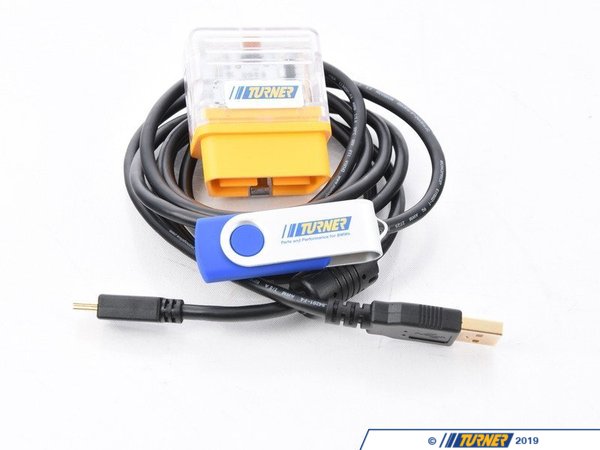 2 of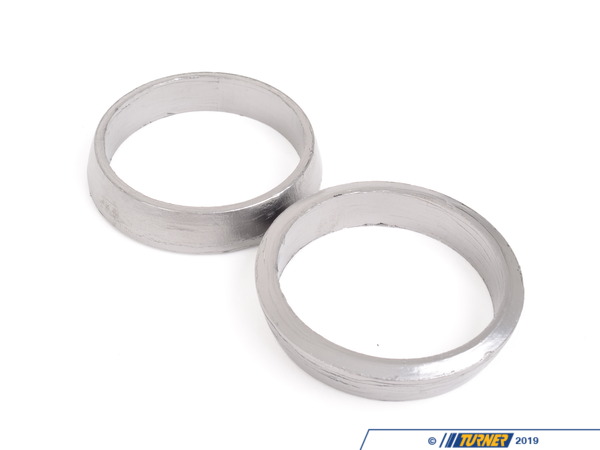 3 of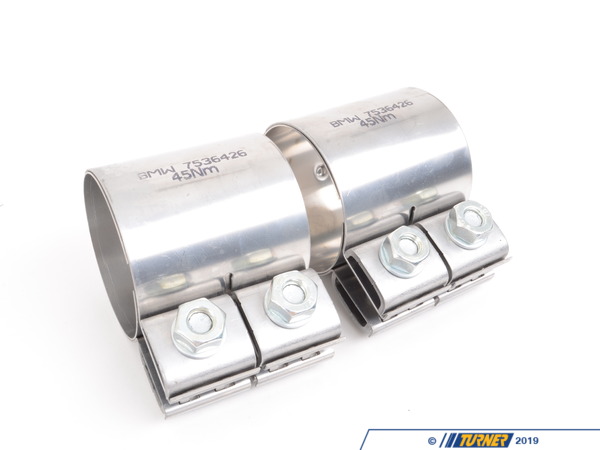 4 of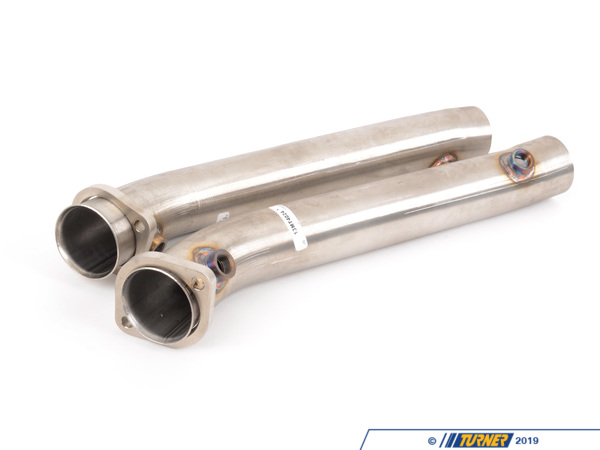 5 of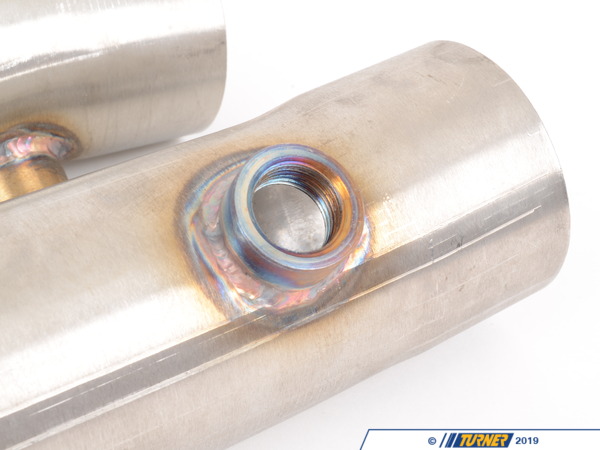 6 of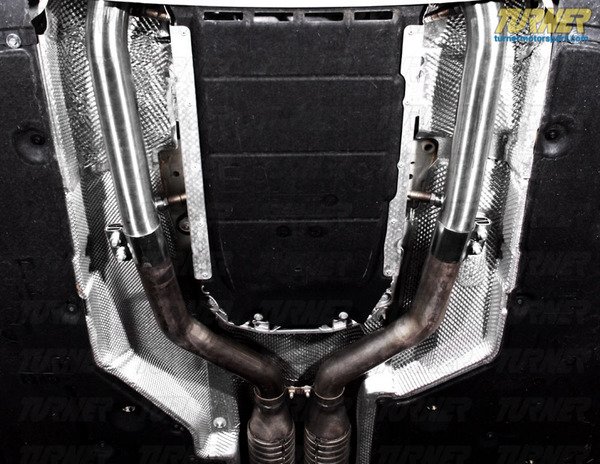 7 of
Select Options E9X M3 Turner Motorsport Test Pipes (Cat Delete)

In Stock We Will Contact You To Sign An Emissions Waiver If We Do Not Have One On File.

Available 8,400 (M3 GTS) (+8400 REV LIMIT)

Available 8,600 RPM (+8600 REV LIMIT)

Available Disable Cold Start Programming (Recommended!) (+COLD START)

Available Do Not Disable Cold Start. Yes, Add Launch Control At 3,500 RPM (Manual Transmission Only). (+LAUNCH)

Available Don'T Change The Steering Effort. Use M Dynamic Mode Steering As Standard. (+MDM STEERING)

Available 91 Minimum Octane (#91OCTANE)

Available 93 Minimum Octane (#93OCTANE)

Available Manual Transmission

Available DCT Transmission

Available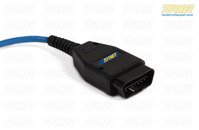 Turner Stage 2 Race Software for E9X M3

Available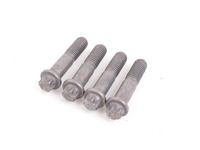 Torx Bolt - Set Of 4

In Stock
Header To Exhaust Nut - Set Of 4

In Stock Cold Air Intake (+INTAKE)

Available Sport Exhaust (+EXHAUST)

Available