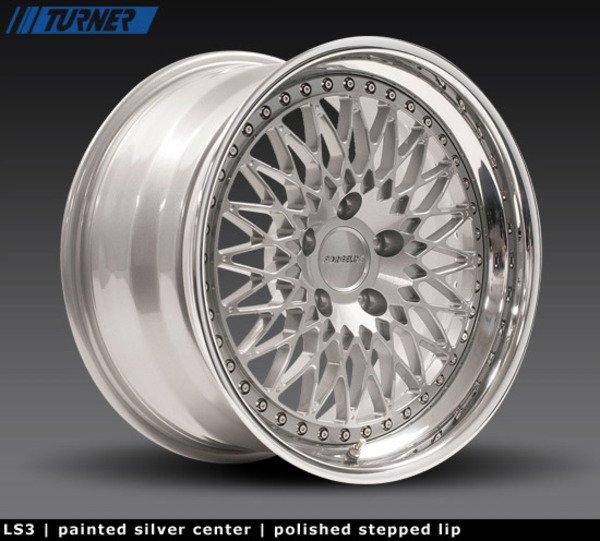 Forgeline LS3 3-Piece Wheel Set
Mfg Part #

LS3-WHEELS-BMW

Turner Part #

T#

340327

Brand
Does this fit my vehicle?
For accurate results, specify your model below.
Product Details
Wheel Set Specs
Fitment:
Front
Rear
Diameter:
17" 18" or 19"
Width:
7.0-13.0"
7.0-13.0"
Offset (mm):
varies
varies
Profile:
with small-medium lip
with medium-large lip
Forgeline is among the premier forged alloy wheel manufacturers in the world. Forgeline's greatest attributes is their obsessive attention to detail and commitment to quality. They produce exciting and innovative wheel designs that stir the passions of automotive enthusiasts from every segment. Forgeline is world-renowned as a manufacturer of advanced forged alloy wheels that find their way to show-stopping project vehicles as well as the winner's circle of major racing events. Forgeline Wheels are an extension of your own automotive style and taste and that's why every Forgeline wheel set is custom-tailored. You become the wheel designer providing the finishing touch or the inspiration for a great build. The broad range of options and possibilities, limited only by your imagination, and the premium that true forged wheels demand virtually ensures exclusivity. Very few Forgeline sets will be entirely alike. We have been a Forgeline dealer for nearly twenty years and use them on our own Turner Motorsport race cars.
The Heritage LS3 wheel is a 3-piece mesh design with design cues from the iconic BBS RS and BMW Style 5 wheels. This mesh design was almost made for German automobiles, but especially BMW. They just look right and correct for all generations of BMW styling where they compliment BMW's creased and sharp edged lines. These really pop in a gold finish especially in a contrasting black, red, or even white body color. These wheels look best with a medium or large outer polished lip. The complicated mesh design, exposed hardware, and polished lip give the wheel a lot of 'bling' but this design looks right at home on any BMW.
Forgeline's 3-piece wheels consist of the inner barrel, wheel face, and outer lip. Each is milled from aviation-grade 6061-T6 aluminum. Each wheel design has been finite element tested to ensure strength under extreme conditions. The wheels are then polished by hand and checked for any imperfections. All wheels are powder coated then finished with a clear coat. This makes the wheel easy to clean and very durable. The powder coating is done in-house at Forgeline to ensure the highest quality and results. On a wheel with hidden fasteners the wheel center is pressed with Heli-Coil inserts. This is a better and more durable method than tapping the aluminum itself. Stainless steel ARP hardware holds the pieces together. Finally, each wheel is checked for run-out to within .020" of true.
Forgeline prides itself on building wheels that match their customer's sense of style and identity. That's why every Forgeline wheel is customizable. This LS3 wheel can be customized to fit your specific requests. Sizes, offsets, colors, finishes, and accessories can all be made to your specification. Contact us for further information on a custom Forgeline wheel set for you.
Note: careful consideration of wheel width, offset and tire sizing must be observed when choosing and installing larger wheels. Adding larger wheels may lead to rubbing on suspension components or bodywork. Wheel spacers, new alignment settings, inside fender modifications, or other adjustments may be required. Because Forgeline wheels are custom manufactured, returns or refunds are not available. For additional resources on wheel fitments, refer to our
Wheel Guide page
(http://www.turnermotorsport.com/t-wheel_guide.aspx) or give us a call or e-mail.
Have your tires sent to Forgeline or Turner Motorsport for professional mounting and balancing.
Steps To Designing Your Custom Wheels:
1. Choose a wheel size. We have provided several default sizes or you can choose a custom size.
2. Select a Wheel Center color and finish.
3. Select a Inner Barrel color and finish.
4. Select a Outer Lip color and finish.
5. Choose a center cap design.
Standard powder coat colors and finishes (no charge)
(click to expand)
Optional finishes (additional charge)
(click to expand)
Center cap designs:
(click to expand)
Additional sizes, offsets, colors, and finishes are available. Contact us for a custom wheel quote.
Special Spring Pricing!
Loading Kit Configurator
Kit Configurator
Base Wheel:
Description
Qty
Custom Forgeline LS3 Wheel: ($3995.00)

Available

1
Choose a wheel diameter:
Description
Qty
17" ($0.00)

Available

1
18" ($350.00)

Available

1
19" ($700.00)

Available

1
Choose a wheel width:
Description
Qty
7.0" ($0.00)

Available

1
7.5" ($0.00)

Available

1
8.0" ($0.00)

Available

1
8.5" ($0.00)

Available

1
9.0" ($0.00)

Available

1
9.5" ($0.00)

Available

1
10.0" ($80.00)

Available

1
10.5" ($80.00)

Available

1
11.0" ($80.00)

Available

1
11.5" ($80.00)

Available

1
12.0" ($80.00)

Available

1
12.5" ($80.00)

Available

1
13.0" ($320.00)

Available

1
Select a center cap design:
Description
Qty
Standard Cap With Black/Red Logo On Brushed Silver Background (CAPALBRS-STD) ($0.00)

Direct Ship

4
Standard Cap With Silver Logo On Black Background (CAPALBLK-STD) ($0.00)

Direct Ship

4
Engraved With Forgeline Logo (Finish Matches Wheel) (CAPENxx) ($0.00)

Available

1
BMW Center Cap Option (CAP-BMW) ($12.49)

In Stock

4
Image may not match selected options.
This Part Fits the Following BMWs
| Make | Model | Submodel | Engine |
| --- | --- | --- | --- |
| BMW | E34 | 525i | M20 2.5L |
| BMW | E34 | 525i | M50 2.5L |
| BMW | E34 | 530i | M60 3.0L |
| BMW | E34 | 535i | M30 3.4L |
| BMW | E34 | 540i | M60 4.0L |
| BMW | E34 | M5 | S38 3.5L |
| BMW | E36 | 318i | M42 1.8L |
| BMW | E36 | 318i | M44 1.9L |
| BMW | E36 | 318ic | M42 1.8L |
| BMW | E36 | 318ic | M44 1.9L |
| BMW | E36 | 318is | M42 1.8L |
| BMW | E36 | 318is | M44 1.9L |
| BMW | E36 | 318ti | M42 1.8L |
| BMW | E36 | 318ti | M44 1.9L |
| BMW | E36 | 323ic | M52 2.5L |
| BMW | E36 | 323is | M52 2.5L |
| BMW | E36 | 325i | M50 2.5L |
| BMW | E36 | 325ic | M50 2.5L |
| BMW | E36 | 325is | M50 2.5L |
| BMW | E36 | 328i | M52 2.8L |
| BMW | E36 | 328ic | M52 2.8L |
| BMW | E36 | 328is | M52 2.8L |
| BMW | E36 | M3 | S50 3.0L |
| BMW | E36 | M3 | S52 3.2L |
| BMW | E38 | 740i | M60 4.0L |
| BMW | E38 | 740i | M62 4.4L |
| BMW | E38 | 740iL | M60 4.0L |
| BMW | E38 | 740iL | M62 4.4L |
| BMW | E38 | 750iL | M73 5.4L |
| BMW | E46 | 323Ci | M52 2.5L |
| BMW | E46 | 323i | M52 2.5L |
| BMW | E46 | 325Ci | M54 2.5L |
| BMW | E46 | 325i | M54 2.5L |
| BMW | E46 | 325xi | M54 2.5L |
| BMW | E46 | 328Ci | M52 2.8L |
| BMW | E46 | 328i | M52 2.8L |
| BMW | E46 | 330Ci | M54 3.0L |
| BMW | E46 | 330i | M54 3.0L |
| BMW | E46 | 330xi | M54 3.0L |
| BMW | E46 | M3 | S54 3.2L |
| BMW | E52 | Z8 | S62 5.0L |
| BMW | E52 | Z8 Alpina | M62 4.8L |
| BMW | E60 | 525i | M54 2.5L |
| BMW | E60 | 525i | N52 3.0L |
| BMW | E60 | 525xi | N52 3.0L |
| BMW | E60 | 528i | N52 3.0L |
| BMW | E60 | 528xi | N52 3.0L |
| BMW | E60 | 530i | M54 3.0L |
| BMW | E60 | 530i | N52 3.0L |
| BMW | E60 | 530xi | N52 3.0L |
| BMW | E60 | 535i | N54 3.0L |
| BMW | E60 | 535i | N55 3.0L |
| BMW | E60 | 535xi | N54 3.0L |
| BMW | E60 | 545i | N62 4.4L |
| BMW | E60 | 550i | N62 4.8L |
| BMW | E60 | M5 | S85 5.0L |
| BMW | E61 | 525i | M54 2.5L |
| BMW | E61 | 530xi | N52 3.0L |
| BMW | E61 | 535xi | N54 3.0L |
| BMW | E63 | 645Ci | N62 4.4L |
| BMW | E63 | 650i | N62 4.8L |
| BMW | E63 | M6 | S85 5.0L |
| BMW | E64 | 645Ci | N62 4.4L |
| BMW | E64 | 650i | N62 4.8L |
| BMW | E64 | M6 | S85 5.0L |
| BMW | E65 | 745i | N62 4.4L |
| BMW | E65 | 750i | N62 4.8L |
| BMW | E65 | 760i | N73 6.0L |
| BMW | E65 | 760Li | N73 6.0L |
| BMW | E65 | B7 Alpina | N62 4.4L |
| BMW | E66 | 745Li | N62 4.4L |
| BMW | E66 | 750Li | N62 4.8L |
| BMW | E66 | 760Li | N73 6.0L |
| BMW | E82 | 1 M Coupe | N54 3.0L |
| BMW | E82 | 128i | N52 3.0L |
| BMW | E82 | 135i | N54 3.0L |
| BMW | E82 | 135i | N55 3.0L |
| BMW | E83 | X3 | M54 2.5L |
| BMW | E83 | X3 | M54 3.0L |
| BMW | E83 | X3 | N52 3.0L |
| BMW | E88 | 128i | N52 3.0L |
| BMW | E88 | 135i | N54 3.0L |
| BMW | E88 | 135i | N55 3.0L |
| BMW | F01 | 740i | N54 3.0L |
| BMW | F01 | 750i | N63 4.4L |
| BMW | F01 | 750i xDrive | N63 4.4L |
| BMW | F01 | Alpina B7 | N63 4.4L |
| BMW | F02 | 740Ld xDrive | N57 3.0L |
| BMW | F02 | 740Li | N54 3.0L |
| BMW | F02 | 740Li xDrive | N55 3.0L |
| BMW | F02 | 750Li | N63 4.4L |
| BMW | F02 | 750Li xDrive | N63 4.4L |
| BMW | F02 | 750LiX | All |
| BMW | F02 | 760Li | N74 6.0L |
| BMW | F02 | ActiveHybrid 7 | N55 3.0L |
| BMW | F06 | 640i | N55 3.0L |
| BMW | F06 | 640i xDrive | N55 3.0L |
| BMW | F06 | 650i | N63 4.4L |
| BMW | F06 | 650i xDrive | N63 4.4L |
| BMW | F06 | Alpina B6 xDrive | N63 4.4L |
| BMW | F06 | M6 Gran Coupe | S63 4.4L |
| BMW | F07 | 535i | N55 3.0L |
| BMW | F07 | 535i xDrive | N55 3.0L |
| BMW | F07 | 550i | N63 4.4L |
| BMW | F07 | 550i xDrive | N63 4.4L |
| BMW | F10 | 528i | N20 2.0L |
| BMW | F10 | 528i | N52 3.0L |
| BMW | F10 | 528i xDrive | N20 2.0L |
| BMW | F10 | 535d | N57 3.0L |
| BMW | F10 | 535d xDrive | N57 3.0L |
| BMW | F10 | 535i | N55 3.0L |
| BMW | F10 | 535i xDrive | N55 3.0L |
| BMW | F10 | 550i | N63 4.4L |
| BMW | F10 | 550i xDrive | N63 4.4L |
| BMW | F10 | ActiveHybrid 5 | N55 3.0L |
| BMW | F10 | M5 | S63 4.4L |
| BMW | F12 | 640i | N55 3.0L |
| BMW | F12 | 640i xDrive | N55 3.0L |
| BMW | F12 | 650i | N63 4.4L |
| BMW | F12 | 650iX | N63 4.4L |
| BMW | F12 | M6 | 4.4L |
| BMW | F12 | M6 | S63 4.4L |
| BMW | F13 | 640i | N55 3.0L |
| BMW | F13 | 640i xDrive | N55 3.0L |
| BMW | F13 | 650i | N63 4.4L |
| BMW | F13 | 650iX | N63 4.4L |
| BMW | F13 | M6 | S63 4.4L |
| BMW | F15 | X5 sDrive35i | N55 3.0L |
| BMW | F15 | X5 xDrive35d | N57 3.0L |
| BMW | F15 | X5 xDrive35i | N55 3.0L |
| BMW | F15 | X5 xDrive50i | N63 4.4L |
| BMW | F16 | X6 sDrive35i | N55 3.0L |
| BMW | F16 | X6 xDrive35i | N55 3.0L |
| BMW | F16 | X6 xDrive50i | N63 4.4L |
| BMW | F22 | 228i | N20 2.0L |
| BMW | F22 | 228i xDrive | N20 2.0L |
| BMW | F22 | M235i | N55 3.0L |
| BMW | F22 | M235i xDrive | N55 3.0L |
| BMW | F23 | 228i | N20 2.0L |
| BMW | F23 | 228i xDrive | N20 2.0L |
| BMW | F23 | M235i | N55 3.0L |
| BMW | F23 | M235i xDrive | N55 3.0L |
| BMW | F25 | X3 sDrive28i | N20 2.0L |
| BMW | F25 | X3 xDrive28d | N47 2.0L |
| BMW | F25 | xDrive2.8i | N52 3.0L |
| BMW | F25 | xDrive3.5i | N54 3.0L |
| BMW | F25 | xDrive3.5i | N55 3.0L |
| BMW | F26 | X4 xDrive28i | N20 2.0L |
| BMW | F26 | X4 xDrive35i | N55 3.0L |
| BMW | F30 | 320i | N20 2.0L |
| BMW | F30 | 320i xDrive | N20 2.0L |
| BMW | F30 | 328d | N47 2.0L |
| BMW | F30 | 328d xDrive | N47 2.0L |
| BMW | F30 | 328i | N20 2.0L |
| BMW | F30 | 328i xDrive | N20 2.0L |
| BMW | F30 | 335i | N55 3.0L |
| BMW | F30 | 335i xDrive | N55 3.0L |
| BMW | F30 | 340i | B58 3.0L |
| BMW | F30 | 340i xDrive | B58 3.0L |
| BMW | F30 | ActiveHybrid 3 | N55 3.0L |
| BMW | F31 | 328d xDrive | N47 2.0L |
| BMW | F31 | 328i xDrive | N20 2.0L |
| BMW | F32 | 428i | N20 2.0L |
| BMW | F32 | 428i xDrive | N20 2.0L |
| BMW | F32 | 435i | N55 3.0L |
| BMW | F32 | 435i xDrive | N55 3.0L |
| BMW | F33 | 428i | N20 2.0L |
| BMW | F33 | 428i xDrive | N20 2.0L |
| BMW | F33 | 435i | N55 3.0L |
| BMW | F33 | 435i xDrive | N55 3.0L |
| BMW | F34 | 328i xDrive | N20 2.0L |
| BMW | F34 | 335i xDrive | N55 3.0L |
| BMW | F36 | 428i | N20 2.0L |
| BMW | F36 | 428i xDrive | N20 2.0L |
| BMW | F36 | 435i | N55 3.0L |
| BMW | F36 | 435i xDrive | N55 3.0L |
| BMW | F80 | M3 | S55 3.0L |
| BMW | F82 | M4 | S55 3.0L |
| BMW | F83 | M4 | S55 3.0L |
| BMW | F85 | X5 M | S63 4.4L |
| BMW | F86 | X6 M | S63 4.4L |
| BMW | F87 | M2 | N55 3.0L |
| BMW | G11 | 740i | B58 3.0L |
| BMW | G11 | 750i | N63 4.4L |
| BMW | G11 | 750i xDrive | N63 4.4L |
| BMW | I01 | i3 | IB3 |
| BMW | I12 | i8 | B38 1.5L |
| BMW | Z3 | 1.9 | M44 1.9L |
| BMW | Z3 | 2.3 | M52 2.5L |
| BMW | Z3 | 2.5 | M52 2.5L |
| BMW | Z3 | 2.5i | M54 2.5L |
| BMW | Z3 | 2.8 | M52 2.8L |
| BMW | Z3 | 3.0i | M54 3.0L |
| BMW | Z3 | M Coupe | S52 3.2L |
| BMW | Z3 | M Coupe | S54 3.2L |
| BMW | Z3 | M Roadster | S52 3.2L |
| BMW | Z3 | M Roadster | S54 3.2L |
| BMW | Z4 | 2.5i | M54 2.5L |
| BMW | Z4 | 3.0i | M54 3.0L |
| BMW | Z4 | 3.0i | N52 3.0L |
| BMW | Z4 | 3.0Si | N52 3.0L |
| BMW | Z4 | M Coupe | S54 3.2L |
| BMW | Z4 | M Roadster | S54 3.2L |
| BMW | Z4 | sDrive28i | N20 2.0L |
| BMW | Z4 | sDrive30i | N52 3.0L |
| BMW | Z4 | sDrive35i | N54 3.0L |
| BMW | Z4 | sDrive35is | N54 3.0L |
*The above product applications have been written by Turner Motorsport. All warranties, product application, fitment, and performance are the responsibility of Turner Motorsport. For additional information see the terms of use.
others bought
recently viewed