 Side Mounts - Motion Motorsport Slotted
Motion Motorsport takes the struggle out of centering your race seat with their exclusive SLOTTED side bracket mounts. These side mounts bolt to your seat shell just like any other side mount. But the bottom bolts to your sliders or floor mount through their innovative slotted inserts. There's no more re-drilling or hogging out holes to get everything to line up. Loosely install the brackets, center your seat, then tighten the screws on the brackets. You won't have to pull the seat in and out while you make tiny adjustments. The rotating slotted design allows the brackets to 'float' into the position you want. And once tightened they will not move or come out of position. These brackets have been thoroughly tested with all FIA-spec seats for bolt spacing, most common seat sliders, and compatible with matrix-style and other floor mount designs. The aluminum material meets or exceeds all FIA recommendations and are powdercoated in matte black.

One other trick feature is the driver and passenger specific offsets to the brackets. The bends are made to place the seat as close to the transmission tunnel as possible (also dependent on floor mount design). Most other side mounts are universal and actually the same piece flipped around with the proper holes drilled. But this does not offset the seat at all and you can end up with an annoying offset from the center of the seat to the steering wheel. Choose from a driver's or passenger's side bracket set below.

Price is for one pair of side mounts.

Motion Motorsport
T#:
340349
|
Part#:
MM-SIDE-
This product is no longer available for purchase.
If you need help finding a similar product, contact us. 1 of
Select Options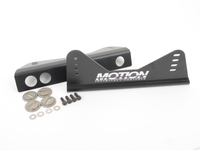 Left/Driver'S (MM-SIDE-DRIVER)
Ships in 8 Business Days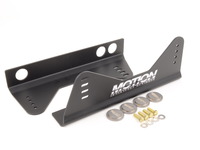 Right/Passenger'S (MM-SIDE-PASSENGER)
Ships in 8 Business Days
Side Mounts - Motion Motorsport Slotted