MSI 12x1.5 Bullet Nose Racing Wheel Studs with Dry Lube - Most BMWs 1984-2011 (E30, E36, E46, E9X)
75MM, 85MM, or 95MM LENGTHS
Dry film lubricant HM-30 coating containing Teflon & Moly over a manganese phosphate finish
Innovative nut-starter and bullet shape radius that all but eliminates cross-threading
Properly sized shank to work with a wide range of brake rotor, wheel, and nut combinations
Heat-treated aircraft quality alloy steel
Developed from over 20 years of top level NASCAR use
These studs are installed using the traditional 'double-nut' method (one regular nut and one jam nut) with thread locking compound (red Turbo-Lock or similar).
Wheel studs are among the safest and most beneficial upgrades you can make on a track car. Not only are wheel studs safer than wheel bolts but they make changing wheels/tires much easier. One of the frustrating things about installing your wheels on the hub is that it's difficult to line up the wheel on the bolt holes. As wheels get larger but also heavier it's even more trouble. Add in a wheel spacer and the task is twice as hard. BMW does produce a wheel alignment pin for this purpose but if you're changing wheels often a stud conversion is the better way to go.
MSI Racing specializes in hardware for motorsports and other advanced industries and their wheel studs are some of the very best in the professional motorsports world. MSI is already a major supplier to teams in the top NASCAR categories and we tried them on our Grand-Am/IMSA racecars and were very impressed by the performance and durability of their designs. After testing them over the course of a few endurance seasons we decided to offer them to all of our customers as well. These studs are available in multiple lengthsand all sizes are made with aircraft quality material and have roll formed threads. The coating is a dry film lubricant HM-30 coating containing Teflon & Moly over a manganese phosphate finish. This coating process reduces friction and wear to prevent thread galling. Another benefit is that these have the best corrosion resistance we have seen in any wheel stud! A dry lube stud has the most corrosion resistance than a plain black coating because the lube is applied over the black phosphate coating. Salt tests have shown this stud is superior to others in corrosion resistance. Other features of our MSI studs include a large bullet nose nut-starter and a properly sized shank to work with a wider range of BMW wheel, nut, and brake rotor combinations.
These studs are the perfect choice for endurance racers, sprint racers, track-only cars, or even hardcore street cars. The bullet nose on this stud is deeper than other studs we have used. More of the stud protrudes through the open nut so that everything lines up better on the threads. This helps to eliminate the possibility of cross-threading or thread stripping. In addition, the shank has been machined for proper brake rotor alignment. The dry lube helps the nut engage and glide over the threads for faster pit stops without cross threading or binding.
Not all wheel studs are created equal. We don't take a manufacturer's generic wheel stud from their catalog and call it our own. Turner Wheel Studs are designed to our own specifications and manufactured for us exclusively. Beware of cheaper studs on the market! We have seen other studs similar to our own designs that are not a true BMW fitment. There are differences that we have ironed out over our years of selling wheel studs for the BMW market. Our stud prices may be slightly higher than the rock bottom prices on the web but we promise that it's a higher quality.
Sold per stud.
Wheel nuts sold separately.

MSI Racing
T#:
340354
|
Part#:
MSI-M12X15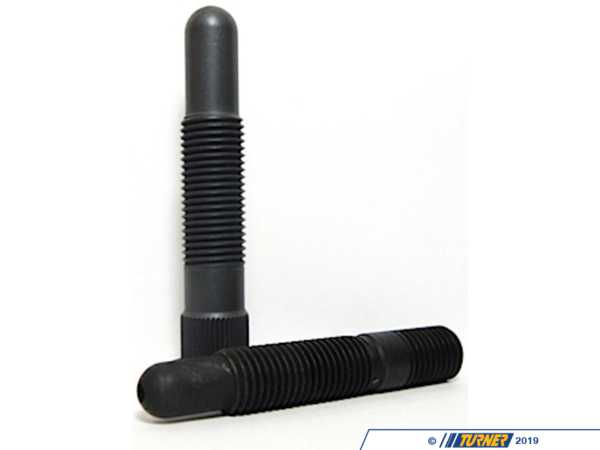 1 of
Select Options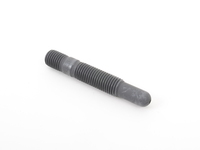 74.5mm Overall Length (20.0008)

On Order, ETA Nov 25, 2019
85.5mm Overall Length (20.0009)

In Stock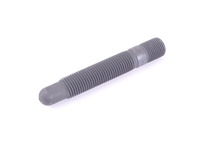 90.5mm Overall Length (20.0020)

Ships on Dec 30, 2019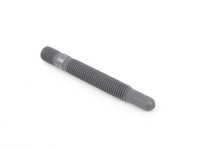 95.5mm Overall Length (20.0010)

Ships on Dec 30, 2019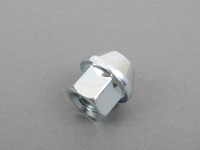 Silver

In Stock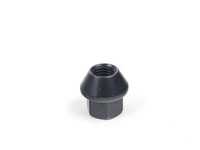 Black

In Stock
MSI 12x1.5 Bullet Nose Racing Wheel Studs with Dry Lube - Most BMWs 1984-2011 (E30, E36, E46, E9X)