E46 M3, Z4 M Supersprint Tubolare Full-Stepped Header
Free ground shipping! 

+ 15-19hp gain over 'Euro-style' headers,
+ full stepped tubular and equal length headers,
+ bolts to the engine with factory hardware and gaskets,
+ used with Supersprint stepped section 1 (with or without cats)

Experience the latest design innovation from Supersprint for the E46 M3 -- 'stepped' design headers. While the technology has been in widespread use in Formula 1 for awhile, this is the first application of a stepped design on the E46 M3. In an engine that is tuned as much as the S54, airflow management is critical in getting big horsepower numbers from the exhaust. The Supersprint design is the next step in innovation in header design. By slightly increasing the size of the pipe diameters as the exhaust system moves away from the engine, the exhaust can flow more air. Supersprint's design is tuned specifically for the S54 engine which is important in making more power without losing low-end torque. The headers merge into a precision-fit merge collector. After the headers, the stepped piping size continues into the Supersprint section 1 with or without cats. The section 1 must be purchased separately. Any section 2 and rear muffler can be used with the Supersprint section 1. Our most-popular package for track cars is for the stepped headers with no cats (straight pipe) but cats are available for people who want to keep emissions in check (or if your rules require them). Total horsepower gain with the complete system over a US M3 would be more than 30hp.

Supersprint exhaust is widely recognized as the leader in complete exhaust system upgrades - extremely high quality, well designed for optimal flow, and amazing sound. Even at a premium price Supersprint is an unbeatable exhaust design because every aspect is done to such a high level. Most Supersprint systems are built with larger diameter piping to improve exhaust flow which helps the engine do less work and make more horsepower! Supersprint exhausts generally run at a premium over other systems but no other system on the market can match their quality, performance, or reputation!

We also recommend using this system on the M3 with special software. The Shark Injector software has been specifically designed for cars running headers but no cats. The software "turns down" the readings from the rear O2 sensors and modifies the tolerances for the EGT sensor. Using an exhaust without the cats and proper software will surely cause a Check Engine Light. Click here for more info on the software.

Header Details
section:headers
requires:Supersprint stepped section 1 (sold separately)
style:long tube, stepped piping sizing, equal length
material:T304 stainless steel
This part alters or deletes the emissions equipment on your car. Because of this, we require a waiver of emissions compliance to be signed and sent in to TMS. You can download the waiver here.

This item fits the following BMWs:
2001-2006 E46 BMW M3 (left-hand drive only)
2006-2008 E85 BMW Z4 M Roadster M Coupe (left-hand drive only)

Supersprint
T#:
388643
|
Part#:
044001KT
1 of
2 of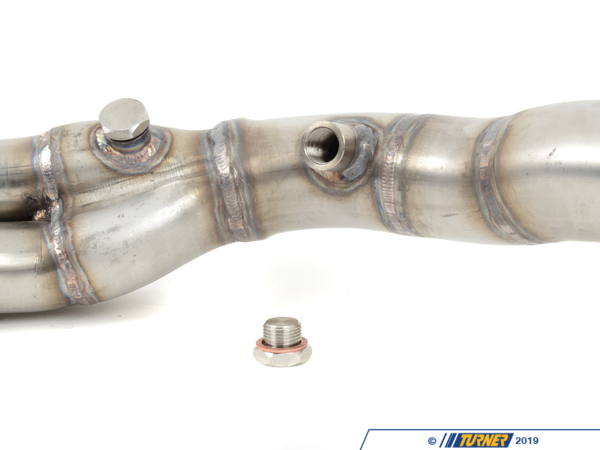 3 of
4 of