F01-F13 550/650/750 Dinan Performance Air-to-Water Intercooler Upgrade
When modifying the car and increasing boost, installing an upgraded intercooler is essential to keep the engine computer from restraining boost as temperatures climb. The stock air-water intercooler is quickly overcome with heat and can't keep the intake air cool enough. If it's too hot the engine computer will reduce power to safer levels. This Dinan intercooler is a larger version of the stock intercooler. A larger core = more surface area and a larger capacity for heat dissipation. Each Dinan intercooler is 23% larger than the stock unit. Even heat soak at low speeds is reduced, making this a worthwhile addition even for stock or mildly tuned engines. This kit comes complete with silicone hoses, coolant lines, and installation hardware. Professional installation recommended but detailed installation instructions are included.
For over 35 years, Dinan has been America's premier tuning company, pioneering advancements in BMW modification while retaining a focus on balanced performance that preserves the original character and driving feel that a BMW offers. When you install a Dinan part on your car, know that it's not only carefully developed and tested, but that Dinan stands behind it with a four year, 50,000-mile warranty. Dinan believes so fully in their "total package" approach that once your car has been fitted with enough of their parts, they celebrate your conversion from stock to Dinan with an exclusive trunk badge, displayed proudly by BMW enthusiasts everywhere. The intercooler is worth 2 points towards your Dinan badge.
This item fits the following BMWs:
2014 F10 BMW 550i 550xi
2013-2014 F06 BMW 650i 650iX Gran Coupe
2013-2014 F12 F13 BMW 650i 650iX
2013-2014 F01 F02 BMW 750i 750Li 750iX 750LiX

T#:
389553
|
Part#:
D330-0017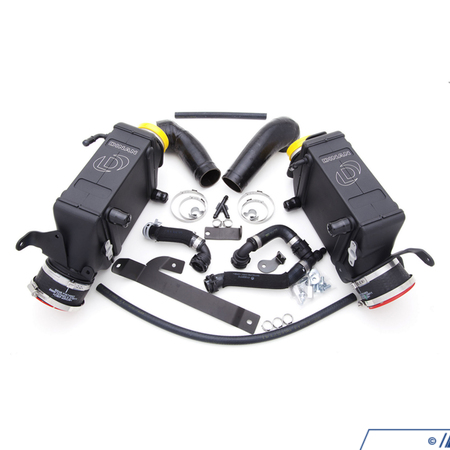 1 of